HINT! CLICK ON PICTURE TO BE TAKEN DIRECTLY TO SUBMISSION GUIDELINES FOR EACH MARKET.
Details
Publisher/Editor: John Joseph Adams

SCIENCE FICTION April 1 -April 7
Pay: 8 cents per word

Word range: 1,500-10,000

Simultaneous submissions? No

Reprints? Yes, 2 cents a word


Description
Lightspeed Magazine is the most well-known and critically acclaimed sister publication of Adamant Press; owned and operated by John Joesph Adams. From the website:
"Lightspeed is a digital science fiction and fantasy magazine. In its pages, you will find science fiction: from near-future, sociological soft SF, to far-future, star-spanning hard SF—and fantasy: from epic fantasy, sword-and-sorcery, and contemporary urban tales, to magical realism, science-fantasy, and folktales."
Submission Hints
Lightspeed is seeking original science fiction and fantasy stories. All types of science fiction and fantasy are welcome. No subject should be considered off-limits, and we encourage writers to take chances with their fiction and push the envelope. We do not accept simultaneous submissions or multiple submissions. You may submit one SF story and one Fantasy story at any given time; you must wait until seven days after our reply to submit another story in that genre.
Sample Rejection
Never seen them open before! They are taking Sci fi stories for a week in April. I sent in my Emotives story. And Got an R.
NEW INTERVIEWS WITH JASON & REBECCA.
Details
Editor: Rebecca Treasure
APRIL FLASH FICTION
Theme: PURIFICATION
Open: April 7- Apr 30
Pay: 8 cents per word
Word range: up to 1000
Simultaneous submissions? No
Reprints? No
Description
Apex Magazine focuses on dark and spectacular science fiction, fantasy and horror. Publishing bi-monthly, it used to be called Apex Digest and has been nominated for several awards. It went on hiatus for a while, but is back in business and accepting submissions.
Submission Hints
Apex Magazine is an online zine of fantastical fiction. We publish short stories filled with marrow and passion, works that are twisted, strange, and beautiful. Creations where secret places and dreams are put on display. We publish in two forms: an every-other-month eBook issue and a gradual release of an entire issue online over a two-month period. Along with the genre short fiction, there are interviews with authors and nonfiction essays about current issues. Additionally, we produce a monthly podcast of narrated original short fiction."
Insight
I took a flash fiction class with Rebecca and it was outstanding. Learn more about the flash fiction editor at APEX.
I also roped the man who owns this fantastic dark magazine company into answering a few questions. 
Details
Managing Editor: Tacoma Tomilson 

Flash Fiction Prompt
OPEN April 1 -14
Pay: 5 cents per word

Word range: under 1,000

Simultaneous submissions? No 

Reprints? No

Description
Every month Apparition Lit holds a flash fiction contest and buys a story based on their prompt.

The overall theme for the year is REALITY SHOW MADNESS.
This month they are looking for stories in the vein of Amazing Race/Where in the World is Carmen Sandiego

So, "Amazing Race", a reality show where teams follow clues and complete challenges around the world. "Where on Earth is Carmen Sandiego" was a kids game show where middle aged contestants answer geography related questions to find Carmen's cronies and Carmen herself. Contestants are called gumshoes.
Submission Hints
Send us stories with enough emotional heft to break a heart, with prose that's as clear and delicious as broth. We love proactive characters and settings that feel lived in and real enough to touch. Stories with style, stories with emotion, stories with character.
Insight
I keep trying every month. No luck. I do promote cheesy reality shows for a living. Let's see if my background will help me finally break into this market.
I am getting personal rejections now, so that is making me pretty dang happy.
French Press
Editors: Kayleigh Marie Edwards, Stephen Kozeniewski, and Wile E. Young
Open for submissions: till July 1st
Pay: 3 cents per word
Word range: 2500- 6000
Simultaneous submissions? Yes
Reprints? No
Description
Theme: A horror story about ghosts in a world where ghosts are a normal, everyday occurance

What if ghosts were real? What if they were a part of everyday life? What if they were, in fact, kind of banal? Could you still tell a horror story about them?

We like to think so. In fact, we wrote an entire novel about it. And now we're inviting all of you to scare our pants off with your short stories set in the world of THE PERFECTLY FINE HOUSE.
Submission Hints
Stories must be reasonably classified as horror. Elements of other genres (i.e. dark fantasy, thriller, erotica, etc.) are fine, but explicit pornography and proselytizing religious tracts will not be accepted.–

All stories must take place in the world of THE PERFECTLY FINE HOUSE. This is an alternate reality where the following rules apply:

1. Ghosts are real.

2. Everything that dies, animal or human, leaves behind a ghost which persists eternally. Yes, that means a character could chill out with Julius Caesar and Jimi Hendrix if so desired.

3. Everyone can see ghosts and knows ghosts are real. 4. Only a total crackpot along the lines of a flat earth conspiracy theorist or anti-vaxxer in our own reality would deny the reality of an afterlife.

5. To not see ghosts would be considered a handicap akin to blindness, a lack of sixth sense.

6. Those are the basic, unbreakable rules for this anthology. But for more information on this world, you can read THE PERFECTLY FINE HOUSE.
I have a character "Alma" a forensic scientist who talks to ghosts. Maybe this is an opportunity to expand her world?
Details
Editor: Jacob Steven Mohr
April 1-June 1
Pay: 1 cents per word

Word range: 2500 -7000
Simultaneous submissions? Yes 

Reprints? No

Description
From Jacob Steven Mohr and Crystal Lake Publishing comes Dead Letters: Episodes of Epistolary Horror, a new anthology set to debut (tentatively) February of 2024.

As the name betrays, we're looking for short horror stories written in epistolary format—meaning, stories written as letters, journal entries, transcripts of radio broadcasts, newspaper clippings, text messages, etc.
Submission Hints
Each story should include some mention of how its manuscript was "discovered." A letter found in a historian's archive, for example. Or emails saved as part of a missing persons investigation. Or an audio file recovered from a dead podcaster's PC. Push boundaries and play with the format—and above all, be scary!

Some comparable titles: Dracula, Things Have Gotten Worse Since We Last Spoke, Carrie, House of Leaves, and World War Z.
Insight
Ai Jiang will have a story in here. I do like the folks at Crystal Lake.

Contact: All submissions should be sent to deadlettershorror@gmail.com (Word files only, please do not paste your story in the body of the email). Please make your subject line: SUBMISSION – "Story Title" – Author Name – Word Count. Responses: We aim to finalize the table of contents by August 1 of 2023.
Details
Through the Portal: Stories from a Hopeful Dystopia
Editors: Lynn Hutchinson Lee and Nina Munteanu

closes May 31st
Pay: 5 cents cdn per word

Word range: 3,500 max

Simultaneous submissions? Yes

Reprints? No

International writers welcome but 90% will be Can authors
Description
"Historically pandemics have forced humans to break with their past and imagine a world anew. This one is no different. It's a portal, a gateway between one world and the next. We can choose to walk through it dragging the carcasses of our prejudices, our hatred, our avarice, our data banks and dead ideas, our dead rivers and smoky skies. Or we can walk through it lightly, with little luggage, ready to imagine another world. And ready to fight for it."– Arundhati Roy

Inspired by Arundhati Roy's vision, we're looking for eco-fiction stories that celebrate the complexity of relationships and the emotional and physical journey from catastrophe.
Submission Hints
Send us your eco-fiction stories or prose poems––literary, magical, speculative, solarpunk, supernatural, slipstream, reimagined folk/fairy tales. We want eco-fiction that envisions imaginaries and relationships in a new or changing world. How do we walk through the portal to the other side? How will we address or overcome the legacy of the past: the negative actors and social constructs, environmental devastation, racism, exploitation, pathologies?
Insights
New market for me.
Details
Microfiction Contest
Editors: Ariel Marken Jack
Closes April 15
$250 first place, $100 2nd $50 third

Word range: 500 max

Simultaneous submissions? No

Reprints? No

International writers welcome but 90% will be Can authors
Description
We want science fiction and speculative fiction. So long as it falls into one of these categories, we will happily read it. If other elements are present, that is fine, but it must include science or speculative fiction.
Submission Hints
This is for marginalized members of the sci-fi/spec community—this includes people of color, the LGBTQ2S+ community, members of marginalized genders, and disabled and neurodiverse people.
Insights
I got a rejections fairly quickly from my first entry.

Hi Angelique, Thank you for sending us your story. We are going to pass on this one, but do feel free to submit two more stories before the contest window closes. Best of luck!

So I sent in another! Lets see...
Details
Judged by Baen Editorial Staff 


OPEN Jan 16- April 30
Pay: 8c a word, $500 free books

Word range: 8,000 max
Simultaneous submissions? No 

Reprints? No
must be RTF format & ANON -finalist announced in July
Description
Write and submit a short story of no more than 8,000 words. It must be a work of fantasy, though all fantasy genres are open, e.g. epic fantasy, heroic fantasy, sword and sorcery, contemporary fantasy, etc.

No entry fee. But only one submission per person...we suggest your best one!

No reprints (i.e. the story must be unpublished).

All entries must be original unpublished works in English. Plagiarism, poetry, song lyrics, settings and/or characters from published gaming worlds or another author's works of fiction will not be considered.


Submission Hints
What We Want to See Adventure fantasy with heroes you want to root for. Warriors either modern or medieval, who solve problems with their wits or with their weapons—and we have nothing against dragons, elves, dwarves, castles under siege, urban fantasy, damsels in distress, or damsels who inflict distress.

What We Don't Want to See Political drama with no action, angst-ridden teens pining over vampire lovers, religious allegory, novel segments, your gaming adventure transcript, anything set in any universe not your own, "it was all a dream" endings, or screenplays.
Insight
I've sent in an urban fantasy short about a woman who is harassed by ghosts and solves mysteries for them. I asked the folks at Baen, and this kind of story (aka Charlaine Harris) is acceptable. - I was chatting with some of my friends from the Fireside Quills about this... we thought they might only take more traditional fantasy as per the submission hints.

Details
Editors: Storm Walden & Greg Clumpner
Open till May 1
Pay:$200 for winner, $100, $50,
range: 3500 max
Simultaneous submissions? No
Reprints? No
decisions early July
Description
We ask that authors try and incorporate both concepts into their speculative work. This can be conveyed in the setting, plot, characters, dialogue; the only limit is your imagination. The theme must be integral to the story in some way and not just mentioned in passing.

Submission Hints
max 2 entries. The winning story will be the one that most effectively uses the contest theme as a key element.

The contest is open to non-professional writers; those who have not met eligibility requirements for SFWA or equivalent, sale of a novel or sale of 3 stories to a large-circulation publication. Previous first-place winners and current contest coordinators are ineligible to enter.
Insight
I belong to a writing group called the DreamCasters and we can also attend the Parsec meetings. I entered a story for their Seven Day Weekend story call. (still waiting to hear if try #2 is rejected.)
Submissions Open: Apr 1- May 1
Theme: Reparations
Editor in chief: Eda Obey
Pay: 1c per word, $25 max
word range: 2500 or less
Simultaneous submissions? Yes
Reprints? No
Description
The country I live in is founded with a deep blood debt that will continue to haunt us if we do not acknowledge it. Revisionist history cannot kill ghosts. Colonialism exists everywhere. What do reparations even look like? Acceptances will be notified on May 15.
Submission Hints
I want stories from the female gaze (think Aliens, Resident Evil, Hereditary, Tank Girl). I'm tired of reading what men want to do to us. I want to read what we want to do to them. Bring me smart female protagonists whose first inclinations are not to seduce the guard to get out of situations; they've got skills, they can get violent easily. I'm fine with them developing over the course of the story into someone like that, but please don't revert to clichés unless you have your tongue firmly in your cheek. Please don't use graphic rape for fridging purposes. If it's part of a character's backstory or development, fine, but don't shoot the damn dog just to piss off your main character. My focus is horror, supernatural, and creeping dread. I'm not averse to extreme/slasher horror. I always love a bit of sci-fi or dystopia, but it's not our focus, so if it's your venue, make it scary. If you spackle a layer of women's issues into it, even better; disenfranchisement, slut-shaming, trans violence, racism, misogyny, sex work exploitation, inequitable emotional work and housework, whatever exists in this world that pisses you off, feel free to put a metaphorical ax between its eyebrows.
My Insights
Eda Obey is one of my favorite people. She is outrageous, compelling, fierce and brilliant. She published my story "Lucy and the Cosmic Comet Ride" and I also featured one of her stories on my podcast, along with two fairly outrageous interviews. *** We are collaborating on a series that features supernatural creatures living in a trailer park! Stay tuned...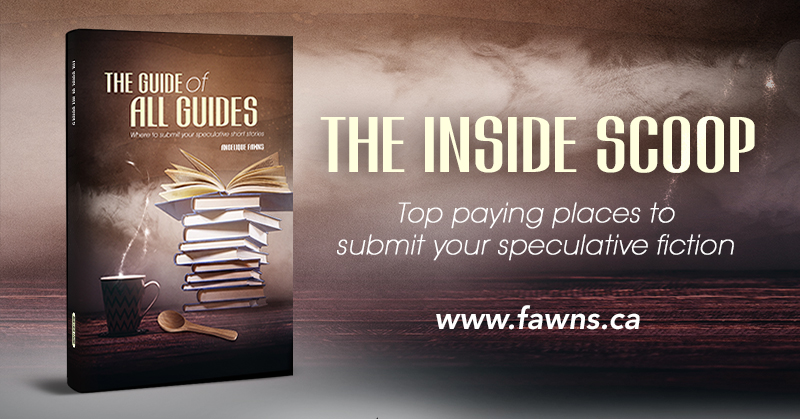 like this list? get more for 99 cents.
This was a sample of what you can find in The Guide of All Guides. Get it from you favorite ebook retailer.
Details
Editor: Aleksandra Hill
Open April 1-30 for FLASH
Pay: 10 cents per word
Word range: under 1500
Simultaneous submissions? No
Reprints? No

Description
khōréō is a quarterly publication of stories, essays, and art: fantasy, sci-fi, horror, and any genre in between or around it, as long as there's a speculative element. The speculative element should be integrated into the piece—a random mention of a ghost on page 12 of 16 isn't going to be the right fit.
Submission Hints
khōréō is dedicated to diversity and amplifying the voices of immigrant and diaspora authors and artists. We welcome, but do not require, a brief description of the author's/artist's identity in their cover letter. We invite you to submit if you identify as an immigrant or member of a diaspora in the broadest definitions of the terms. This includes, but is not limited to, first- and second-generation immigrants, refugees, asylum seekers, undocumented migrants, persons who identify with one or more diaspora communities, persons who have been displaced or whose heritage has been erased due to colonialism/imperialism, transnational/transracial adoptees, and anyone whose heritage and history includes 'here and elsewhere'.
Insight
They are responsive to questions. A nice market.
Details
Opening on APRIL 26TH at 9am UTC (which is 4am Eastern)
Editor-in-chief: Vanessa Rose Phin

Pay: 10 cents per word 

Word range: up to 5,000 (will consider higher)

Simultaneous submissions? No 

Reprints? No
Description
Strange Horizons defines itself as a weekly magazine of and about speculative fiction. Launched in September 2000, it is a SWFA-qualifying market. The staff volunteering on this magazine come from all over the world including Sri Lanka, India, Brazil, Canada, China, and the USA. 
From the website: 
"We publish fiction, poetry, reviews, essays, interviews, roundtable discussions, and art. 
Our definition of speculative fiction includes science fiction, fantasy, horror, slipstream, and all other flavors of fantastika.
Submission Hints
They specify what kind of fiction they are looking for: 
• Fiction from or about diverse perspectives and traditionally under-represented groups, settings, and cultures, written from a non-exoticizing and well-researched position. 
• Unusual yet readable styles and inventive structures and narratives. 
• Stories that address political issues in complex and nuanced ways, resisting oversimplification. 
• Hypertext fiction, interactive fiction, and other stories that explore and exploit the forms available to us. If you have a work of this type that you think might be a good fit for Strange Horizons, please query us to discuss how to submit it."

Insights
When they reach 1000 subs they will close.
Details
UNTOLD STORIES
Editor: Chris Vannes & Anne Johnston
Closes May 31
Pay: depends on Kickstarter. nominal to 8c a word
Word range: up to 10,000
Simultaneous submissions? yes
Reprints? yes

Description
Sometimes the greatest stories, the truest stories, are the ones that nobody hears. Tales that would shock or delight or horrify you, if only you knew how things really were. Truths that have lain undiscovered beneath the surface, behind the mask, beyond the history books, or just around the corner . . . until now.

Story genres will cover a wide range, including literary fiction, speculative, horror, and alt-history – each one incorporating an element of "hidden truths" or an alternate take on something that everyone thinks they already know.
Submission Hints
Stories may be from any genre so long as they incorporate an element of hidden truths or an alternate take on something that everyone thinks they know. Literary fiction, speculative, horror, historical and alt-history, creative nonfiction, etc. are all welcome.

Authors may submit up to three pieces for consideration across two categories: short fiction (up to 10,000 words) or flash fiction (up to 1,000 words). No more than two short fiction stories may be submitted per author.
Insight
Fellow Wulf Packer Pete Lead found this call for us. Thank you! You can check out the Kickstarter for this here.
Sentinel Creatives
Closes- April 15
Pay:$125-$200
Word range: 3000-6000
Simultaneous submissions? yes
Reprints? No
Description
We're looking for original weird tales set in the medieval period that explore the human (and inhuman) experience through the lens of horror.

Some clarifications:

Weird: The term "weird" should be understood to mean a certain sense of breathless and unexplainable dread, of outer, unknown forces present, a suggestion of the defeat or suspension of the laws of nature which have hitherto served to protect our minds and bodies (and souls) from the assault of chaos. By its very nature, weird fiction should invoke in the reader a sense of profound uneasiness and dread, it should hint at the inability of the human mind to comprehend the true nature of existence, and it should cause us to question the stability of our faith in the established laws of nature.

Medieval: The term "medieval" denotes the period in Europe lasting from around 500AD to 1500AD and is typically divided into the Early, High, and Late Middle Ages. There is a temptation here that often proves too powerful to ignore, to view Europe through a monist lens: to see all of Europe as Christian, white, and "Western". But this is a strange way to view a continent and a period that saw so much strife and upheaval precisely because of the differences of those living within its borders. These are the differences—the tensions—that create the opportunity for compelling storytelling.
Submission Hints
Tell us stories set in the Iberian Peninsula, where the Muslim Moors and Spanish Ibero sit uneasily beside one another, all while resting over the rotting bones of the old Roman Empire. Or show us the places where cultures mix and often collide: the heirs of Rome in Constantinople or the warring Crusader States of the Levant. What might the Mongols discover as they plunge into the old temples of Europe? What awaits the crucesignati as they ride to bring the word of Christ to the Wends in their dark forests? And, of course, the Vikings. We love a good Viking Horror.

The medieval setting provides, in our opinion, one of the most interesting places (large as it is) to write weird fiction. There is upheaval—the undoing of the order of the world, which gave birth to the Middle Ages with the Fall of Rome; the rise of new religious sensibilities, new faiths gaining strength and momentum and yet not quite able to unseat the folk beliefs and superstitions of the past—often resulting in a conjoining of beliefs, a merger or absorption of the one by the other (for e.g. the jinn in Islam).
My Insights
They define Horror as: It now feels trite to say, but good horror is about trespass and transgression more so than it is about transcendence. It confronts themes, images, and ideas that people would rather avoid than confront but elicits in the reader a sense that they cannot look away.

Give us your body horror, your cosmic horror, your religious and paranormal horror, folk horror and slashers, monsters and more!
Details
Editor-in-Chief: Tristan Everts 

Fiction Editor: Angie
OPEN Now
Pay: 4 cents per word

Word range:100- 5000
Simultaneous submissions? Yes 

Reprints? No

Description
Welcome to Utopia Science Fiction (USF) Magazine. Founded July, 2019, we are a growing science fiction magazine dedicated to publishing quality science fiction short stories, science articles, and poetry. We put out a new issue on the 30th of every other month, and we release a free story and poem every three weeks.

THE NEXT THEME IS "QUEER UTOPIAS" for the June 2023 issue
Submission Hints
What are we looking for? We want enthralling stories set in futures we might want to live in. Counter to the recent dystopian craze, we publish stories that shine with a more optimistic future, one we want to believe in, one we would fight for.

We're looking for

Captivating world-building
Character-rich, diverse settings
Well-written engaging plots that steer away from common tropes
Tension and conflict that leap out of the page and grab us
A good ending
Hard science fiction, stories based in explained science
Insight
They have a form on their website for submissions. No luck yet for me. I've sent a couple stories in. I currently have Zelda's Taboo Dust Crossed Lovers here
OPEN March 1st - Sept 1st
Editor: Joshua Fagan & Ai Jiang

8c a word

Word range: max 1200

Simultaneous submissions? Yes

Reprints? No
Description
Orion's Belt is a literary speculative-fiction online magazine. We specialize in the strange and poignant and awe-inspiring, stories that have a cosmic scale and intimate personal stakes. Currently, we publish fiction only, one story per month. All stories must be 1200 words or less.

Speculative fiction for us encompasses a wide range of fiction that includes non-realist elements. While we focus on science-fiction and fantasy, we're open to slipstream, horror, magic realism, myth retellings, surrealism, superhero stories, and all other fantastical genres and subgenres.

The "literary" qualifier simply means we like stories focusing on internal and interpersonal conflicts. Don't give us people saving the world unless you can make us care about the people doing the saving. It also means we want stories that are sharply, intelligently written. We highly prize the craft of writing. This doesn't mean you have to be Faulkner or Shakespeare, and it certainly doesn't mean we want stories peppered with purple prose and thesaurus-words. It does mean that we care as much about form as we do about content. How a story is told is as important to us as what it is about.

Speculative fiction gives us the opportunity to imagine other worlds, but we can also use it to help us better understand our own little blue marble floating through the depths of space.

We follow in the tradition of science-fiction pioneer Darko Suvin and his concept of "cognitive estrangement," in which the strangeness of different worlds provides readers with a lens through which to observe the strangeness in our own worlds. This is more than mere allegory. It's an awakening to a higher level of awareness. In our view, the best speculative fiction does more than offer escapism. It facilitates a better understanding of the self and the other.
Submission Hints
All stories must contain significant speculative elements. This does not mean all sci-fi stories must have lasers and rockets. It just means a non-speculative story doesn't become speculative if you include a single line clarifying the story takes place on Mars.
My Insight
Ai Jiang (recent Nebula finalist) is an editor here... learn more about her in my exclusive interview. Also, check Horrortree.com on March 31st for a new interview about Jiang's recent Nebula finalist placing!