HINT! CLICK ON PICTURE TO BE TAKEN DIRECTLY TO SUBMISSION GUIDELINES FOR EACH MARKET.
Fantasy & Science Fiction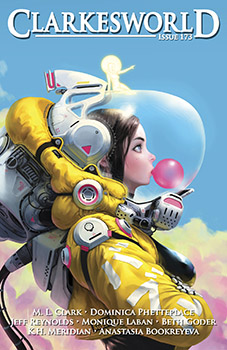 Rolling Submission Window OPEN
Publisher/Editor: Neil Clarke
Pay: 12 cents per word
Word range: 1,000 - 22,000

 Simultaneous submissions? No
Reprints? No 

Description
Clarkesworld is an award-winning science fiction and fantasy magazine. A SFWA-qualifying market, it was first published in 2006 and is one of the top places speculative fiction writers want to see their work. It comes out monthly, and contains interviews, stories, and articles. They accept stories from all over the world and say translations are welcome. They also have a podcast which features a story from the current issue.
Submission Hints
The submission guidelines state: 
"Science fiction need not be "hard" SF, but rigor is appreciated. Fantasy can be folkloric, contemporary, surreal, etc. 
That said, there are some things that we've grown tired of and can be difficult or impossible to sell to us: (this is not a challenge) 
• stories that include zombies or zombie-wannabes 
• stories about sexy vampires, wanton werewolves, wicked witches, or demonic children 
• stories about rapists, murderers, child abusers, or cannibals 
• stories where the climax is dependent on the spilling of intestines 
• stories in which a milquetoast civilian government is depicted as the sole obstacle to either catching some depraved criminal or to an uncomplicated military victory 
• stories where the Republicans, or Democrats, or Libertarians, or . . . (insert any established political party or religion here) take over the world and either save or ruin it 
• stories in which the words "thou" or "thine" appear 
• stories with talking cats or swords 
• stories where FTL travel or time travel is as easy as is it on television shows or movies 
• stories about young kids playing in some field and discovering ANYTHING. (a body, an alien craft, Excalibur, ANYTHING). 
• stories about the stuff you just read in Scientific American or saw on the news 
• stories about your RPG character's adventures 
• "funny" stories that depend on, or even include, puns 
• stories where the protagonist is either widely despised or widely admired simply because he or she is just so smart and/or strange 
• stories originally intended for someone's upcoming theme anthology or issue (everyone is sending those out, wait a while) 
• your trunk stories 
• stories that try to include all of the above" 

Insight
Neil Clarke contacted me because my website was apparently "spamming" his. I think I had pingbacks turned on? (Now it is off.) The upside of this embarrassing moment is that he says he will let me interview him! Whoot! Keep an eye on this space for hints directly from the editor of the biggest magazine in the industry...
Editor: Janet Hutchings
Open for submissions: ongoing
Pay: 5-8 cents per word
Word range: 250-12,000
Simultaneous submissions? No
Reprints? occasionally
Description
Ellery Queen Mystery Magazine (EQMM) has been around since 1941 and has been cited as "the finest periodical of its kind" by The Readers Encyclopedia of American Literature. They pay professional rates and have short stories from famous authors in many editions.
Writers like William Faulkner, Agatha Christie, Ian Rankin, Val McDermid, Ruth Rendell and Peter Robinson have been featured.
It is a part of the Dell Magazine family along with Alfred Hitchcock Mystery Magazine. 
Their website proclaims they are the "winner of more than 100 major awards, including 22 Edgars from the Mystery Writers of America, EQMM is the most celebrated mystery and crime-fiction publication in the world."
Submission Hints
"We publish every kind of mystery short story: the psychological suspense tale, the deductive puzzle, the private eye case—the gamut of crime and detection from the realistic (including the policeman's lot and stories of police procedure) to the more imaginative (including "locked rooms" and "impossible crimes"). We need hard-boiled stories as well as "cozies," but we are not interested in explicit sex or violence.
We do not want true detective or crime stories. With the exception of a regular book review column and a mystery crossword, EQMM publishes only fiction. We are especially happy to review first stories by authors who have never before published fiction professionally.
My Insights
I've been reading Ellery Queen Mystery Magazine since the age of 9 years old and enjoy the short twisty tales. I was fortunate to have one of my first sales here. You can learn more about it in my full-length short story anthology (plus publisher insights) The Story Behind The Stories. "Three Calendars" was selected to be featured in the Department of First Stories. Janet talks about why she purchased this story, and gives general hints for writers in Episode 9 of Read Me A Nightmare.
Editor: Richard Flores IV
ongoing
Pay: 11 c a word

Word range: 1000 max
Simultaneous submissions? No
Reprints? No

Description
We publish flash fiction in the genres of speculative fiction, specifically science fiction, fantasy, supernatural, super hero, or any combination of these. We are looking for stories that are engaging to our readers in such a short word count. Please take note of these factors (pun intended) when submitting stories to us.
Submission Hints
Speculative Fiction is a broad term to accompany several genres. Factor Four Magazine will focus on four of these genres. Science Fiction, Fantasy, Supernatural, and Super Hero. Genre lines are very hard to define at times, so we keep things a bit fuzzy when it comes to the definition of each of those. You may even find a few stories blend several genres together.
Insight
I've had around four rejections, no personals yet.
PERIODICAL
Deadline: Ongoing
Pay:$130 per story
Word range: 850-950 max
Simultaneous submissions? Yes
Reprints? No

Description
Futures is a venue for very short stories or 'vignettes' of between 850 and 950 words. The subject is typically near-future, hard SF, although this can be interpreted liberally. In short, what Futures is looking for is originality. To this end it is advisable to read as many previous Futures as you can, as stories that repeat themes already dealt with extensively are less likely to be considered than those that do something new and different. Futures does not consider reprints of stories previously published elsewhere.
Submission Hints
OK. Take a seat. This won't take long. Don't worry about the alien, he always does that when he sees strangers, it doesn't stain. I'm afraid I can't offer you any refreshments — the service droid blew a fuse last week and the spare part is stuck on a shuttle somewhere between here and Titan. But, as I say, this won't take long. If you're sure you wish to send a story to the orbiting station that is the Futures submissions hub, it's probably easiest if I upload the instructions via the mind link. Ah. Unusual. OK. Well, in that case I will have to spell out the protocols the old-fashioned way. The very first rule is, I'm afraid, prepare to be disappointed. This is not a bad thing, but as for any science-fiction outlet, Futures can publish only a limited selection of the stories we receive, so rejection is part of the process (and it is honestly no more fun to issue a rejection than it is to receive one). The second rule is that contributions to Futures are welcome from absolutely anyone, irrespective of whether they are writing their first story, or are professional or published authors. There are, of course, some basic requirements, so here are some frequently asked questions:
My Insights
This editor seems very kind. My fellow Wulf Packers love this market. I've also spoken to a few authors who have had success and they say humour works well here. More info at this link -http://www.concatenation.org/futures/authorsinstructs.html
Editor: Emma Munro
Open from the 1st to 21st of every month
Pay: $80 8c word minimum
Word range: 500-1000
Simultaneous submissions? No
Reprints? Yes 2c a word
We are looking for complete 500- to 1000-word stories with crisp prose, well-developed characters, compelling plots, and satisfying resolutions. We want stories that engage our minds and emotions.
Submission Hints
Anonymous submissions.

Flash Fiction Online has published stories from both new and established authors across the globe. We love narratives with crisp prose, well-developed characters with emotional arcs, fascinating plots, and satisfying resolutions. We want works that engage our minds and emotions and that leave us with a sense of awe or give us something to muse on. We're always on the hunt for something new, surprising, clever, or beautiful.
Insights
One of my fellow Wulf Packers is a first reader here. She says FOLLOW THE GUIDELINES. Plus, I'm not allowed to mention her when submitting. 😂
Editor: Catherine Tobler
Pay: 10 c a word

Word range: 5000 max sweet spot 3-4k
Simultaneous submissions? No
Reprints? yes 1c a word

Description
The Deadlands exists in liminal spaces between life, death, and elsewhere. We are looking for speculative fiction that concerns itself with death–but also everything death may involve. A ghost in a shadowed wood. An afterlife discovered through a rusted door. An abandoned house in the middle of a haunted field. A skeletal figure moving with intent toward something unseen. Death personified. Burials in troubled lands. A raised scythe against a clouded sky. Memento mori. The rivers of the dead. The sprawling underworlds beneath our feet.

The Deadlands would love to see stories from a worldwide perspective, different cultures, different approaches to death. We welcome stories from everyone, everywhere. Stories that feature characters impacted by someone passing away and processing the event of death, are fair game, but will likely be a hard sell. Stories about related subjects—zombies, demons, vampires, apocalypses, and the various undead—are not for us. An apocalypse may be your setting, but it isn't your story. We are absolutely not interested in seeing weird West stories, steampunk tales, or military fiction. We are not interested in stories involving Lovecraft's mythos. Humor will be a harder sell than heartbreaking. If your story begins with someone waking up, it is not for us.
Submission Hints
We are never far from death—Dante reminds us. It is always there, just out of sight, around the bend in the road. The faraway nearby, Rebecca Solnit says. We could step past a tree in that wild forest and be there. Where? The Deadlands.

The Deadlands is a monthly speculative fiction magazine. We publish short stories, poems, and essays about the other realms, of the ends we face here, and the beginnings we find elsewhere. It is an adventure into the unknown, to meet those who live there still, even though they may be dead. Death is a journey we all will take, but we'd like to peek at the map before we go.

We are generally open to fiction and nonfiction submissions, except for a year-end holiday closure. Poetry submissions are open the first two weeks of every month, resuming in February 2022. Explore our guidelines and read our issues to see what we're publishing and if your work might fit.
Insight
A couple rejections so far for me. They came quickly... I am intrigued by this market. Hoping to sell to them one day.
Details
OPEN NOW
**Looking for 1st person narratives
Producer: Steve Blizin

Creator/Narrator Jon Grilz
Pay: $2 per 100 words for patreon stories (typically stories at are 3000 words or less) $100 flat rate for stories selected for Sunday production.

Word range: 1,000-7,000

Simultaneous submissions: Yes
Reprints No
Description
Jon Grilz is a writer and podcast living in Minnesota. His love of horror and creepypastas led to a simple question, "Where are all the creepypasta podcasts?" Having started his horror podcasting with Small Town Horror, delving into the world of some of the best scary stories felt like a natural transition.
Submission Hints
WHAT WE WANT…

SINGLE NARRATOR STORIES Obviously we have a large cast, but for production sake, single narrator stories work the best (a story where only one person is speaking). We understand that when telling stories, we all tend to quote what someone else said, and that's fine, but it has a very distinct tone. Multiple speaking roles will always be considered, but single narrator stories tend to get preferential treatment.

WHAT SCARES YOU We hear it plenty, "that wasn't scary." Well, then scare us. Tell us something new. Something dark and horrible. Something that we can't say no to. The things that scare the writers tend to be the things that bleed through into the writing and make for the most compelling stories.

DIVERSITY We celebrate diversity at the Creepy podcast. BIPOC, LGBTQIA, anyone and everyone is welcome here. Just leave your hate at the door. If you have a story that is specifically for a black or female voice actor, please tell us. If your story really grabs us and there is an ethnicity not currently represented on the show, we will find someone to read the story to do it justice.

SCARE US We've read a lot of stories, and been a bit desensitized. Feel free to push the boundaries of gore and horror, but remember this is audio. Think about the listener when you are writing it.
Sample Rejection
Creepy bought my story "A Deadful Friday the 13th" Listen to it and get some hints from an interview with Jon himself. His story is amazing...
Editor: Tina (aka Alin)
Pay: 5 cents a word
Word range: 5500 max original
7000 max reprints
Simultaneous submissions? yes
Reprints? Yes
The Dread Machine is a magazine, publishing house, and community where writers and fans of dread-inspiring fiction can read and connect. We make cool creative projects accessible to those who will love them the way they deserve to be loved. In service of that mission, we are always accepting submissions.
Submission Hints
The Dread Machine publishes futuristic dark fiction, speculative fiction, cyberpunk, slipstream, and science fiction. We do not accept religious fiction, fetish horror, or erotica. All submissions must be in English.
UPDATE
Remember to send your stories anon!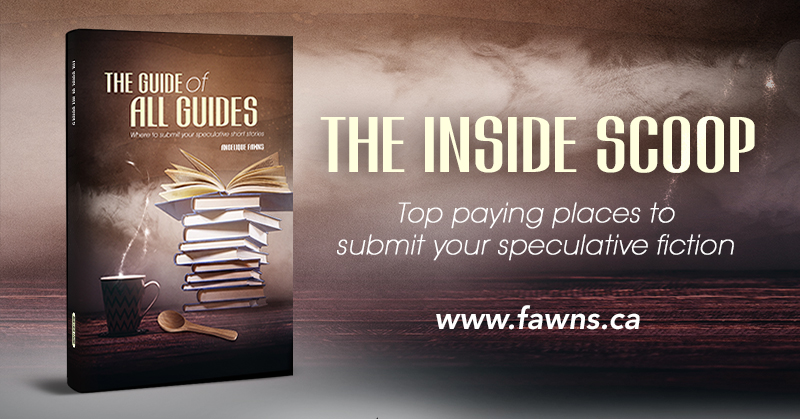 like this list? get more for 99 cents.
This was a sample of what you can find in The Guide of All Guides. Get it from you favorite ebook retailer.
Details
Editor: Sheree Renee Thomas 
 Pay: 8-12 cents per word 
 Word range: flash to 25,000 
 Simultaneous submissions? No 
 Reprints? No
Description
When it comes to helpful rejection letters, fast turnaround times, and a high-quality product, this is my favorite place to submit stories. The Magazine of Fantasy & Science Fiction is a Science Fiction & Fantasy Writers of America (SFWA) qualifying market based out of the United States. Founded in 1949, they produce six print issues a year. They are the original publishers of science fiction classics like Stephen King's "Dark Tower" and Daniel Keyes's "Flowers for Algernon". 
I've sent them 14 stories and received a rejection for all of them. However, five of the rejection letters included detailed reasons why C.C. Finlay did not accept them. "The Last Ride," "Camp Napanoo," "The Versa Vice," "The Writing Retreat," and "The Patron Saint of Livestock," all came back with thoughtful notes that helped me rewrite each tale and sell them to other markets. 
The new (and 10th) editor for 2021, Sheree Renee Thomas, is an award-winning Pushcart-nominated author. Her work is inspired by myth, folklore, and natural science. I look forward to reading her rejections and cross my fingers there may be an acceptance eventually. 
The Magazine of Fantasy & Science Fiction is frequently open to submissions and only close when they need to get on top of their slush pile.
Submission Hints
According to the writer's guidelines: 
"Submissions have increased more than 10% this year, compared to last, and you aren't just sending us more stories, you're sending us more really excellent stories. That is one of the few good things we'll say about 2020. Give us this chance to go through them." 
Another plus to this market is the rapid turnaround. I never had to wait more than two weeks to get my "nay." However, the guidelines do ask for writers to allow eight weeks for a response.
My insight
This is the feather I want in my writing cap. I intend to submit here until ONE DAY I get an acceptance. Apparently Sheree really likes poetry in writing. My fellow Wulf Packer Catherine Weaver has gotten a personal from this market, and her writing is very emotive and poetic.
Details
Editor: Trevor Quachi 
 Pay: 8-10 cents per word 
 Word range: up to 20,000 
 Simultaneous submissions? No 
 Reprints? No
Description
This is another founding magazine and big player in the science fiction world owned by Dell Magazines. Analog Science Fiction and Fact Magazine was originally published as Astounding Stories of Science Fiction when it launched in 1930. Analog was where Anne McCaffrey's dragons first took flight! There were three issues from 1967 and 1968 which have the first three novellas in McCaffrey's Dragonriders of Pern series. 
Frank Herbert's sprawling epic Dune also originally appeared in Analog. After being serialized in the magazine, Dune was rejected 23 times before it was eventually picked up by Chilton Books. Dune has been called the best-selling science fiction novel of all time.
Submission Hints
Editor Trevor Quachri says: 
"Analog/Astounding is often considered the magazine where science fiction grew up. When Editor John W. Campbell took over in 1938, he brought to Astounding an unprecedented insistence on placing equal emphasis on both words of "science fiction." No longer satisfied with gadgetry and action per se, Campbell demanded that his writers try to think out how science and technology might really develop in the future – and, most importantly, how those changes would affect the lives of human beings. The new sophistication soon made Astounding the undisputed leader in the field, and Campbell began to think the old title was too "sensational" to reflect what the magazine was actually doing. He chose "Analog" in part because he thought of each story as an "analog simulation" of a possible future, and in part because of the close analogy he saw between the imagined science in the stories he was publishing and the real science being done in laboratories around the world. 
Real science and technology have always been important in Analog, not only as the foundation of its fiction, but as the subject of articles about real research with big implications for the future. One story published during World War II described an atomic bomb so accurately – before Hiroshima – that FBI agents visited John Campbell to find out where the leak was. (There was no leak – just attentive, forward-thinking writers!)" 

Sample Rejection
You have to wait a while to get your rejections from this one. But I am willing to be patient for a sale here!
James Gunn inspired
Editor: Jean Asselin
Open for submissions: currently open
Pay: $50
Word range: max 7500
Simultaneous submissions? No
Reprints? No
Description
James Gunn defines science fiction as "the literature of change" and states that it "incorporates a belief that the most important aspect of existence is a search for humanity's origins, its purpose, and its ultimate fate." A tall order but a worthy goal. Our editorial vision for James Gunn's Ad Astra calls for raising our eyes above the horizon and not limiting the scope of speculative fiction. It is in this spirit that we welcome great stories that range from the near-reality to the far reaches of the what-if.

Suggestions about what we're looking for can unnecessarily constrain writers. That said, we can offer this advice: Be sure your story actually tells a story. And be sure it requires your speculative element in order to hold together.

Beyond that, the sky (the stars, the edge of the next universe over) is the limit.
Submission Hints
James Gunn's Ad Astra is a publication that aims to show visions of the future for all readers. We are not interested in stories that perpetuate existing systems of discrimination, i.e. stories that demean women and other marginalized groups.
My Insights
I've only sent them one story. And it was rejected.
Details
Editor: Jonny Pickering
ongoing

Pay: 3 Pence per word

Word range: 2,000 max

Simultaneous submissions?Yes
No 
Reprints? No
Description
Seize The Press is the literary melding of Ursula Le Guin, Thomas Ligotti and Rosa Luxemburg. A brand new online magazine for dark speculative fiction and anticapitalist sci-fi, fantasy and horror pop culture analysis. Neon, dragons and gore. We pay pro rates to writers and aim to build a solid community where writers are paid well for their work and readers get some top tier fiction and media criticism. And if we get to dunk on Disney in the process then that's just the cherry in the pie.
Submission Hints
Seize The Press Magazine is looking to publish dark, transgressive speculative fiction. Bleak sci-fi, dark fantasy and horror only. We're looking for stories that aren't didactic or moralistic. We want stories where everything isn't wrapped up neatly at the end. We want to promote a diverse range of voices from authors who write messy characters, so give us your problematic queers and your angry women—we want your difficult and morally questionable characters in unpleasant situations who don't slide neatly into a narrow definition of positive representation and don't fit the model minority mould.
My Insights
The stories are free to read on this website. And they are strange. I read "Eating Bees From The Ass of God" and "Some Seeds Only Bloom After Burning." They were both a tad disturbing and well-written. So, this market is a curiosity for me. Who doesn't like to let their inner weird rage?
This an interesting venue
Ongoing

Pay: $100 plus 50% subscription revenue

Word range: 6-10,000 words

Simultaneous submissions? No
No 
Reprints? Yes
Description
Mission = Revive the art of the short story, support artists, and produce something wonderful.
Submission Hints
What does the timeline look like? Submit stories by the end of the month, winner to be announced on the 15th. There is ONE story that wins and receives the full payout. Where do I send submissions? shortstorystack@gmail.com What are the rules for submitting?

1. No Fees

2. Send in Microsoft Word or Google Doc form

3. Any genre

4. 6- 10,000 words. Yes, just 6 words, like Hemingway's famous 6-word story "For Sale: Baby shoes, never worn."

5. Reprints are ok so long as you still have the rights to distribute.


Insights

A couple of rejections so far. But the last guy who won the contest make over $400. So.. a worthwhile venue.


Details
Editor: Andrew S. Fuller

ongoing
Pay: $100 for short fiction, $30 for flash

Word range: 1,001-7,500

Simultaneous submissions? No

Reprints? No
Description
Three-Lobed Burning Eye is a speculative fiction magazine offered free on-line. They publish twice a year, with a print anthology every other year. Each issue features six short stories.
Submission Hints
"Original speculative fiction: horror, fantasy, science fiction. We're looking for short stories from across the big classifications and those shadowy places between: magical realism, fantastique, slipstream, interstitial, and the weird tale. We will consider suspense or western, though we prefer it contain some speculative element. We like voices that are full of feeling, from literary to pulpy, with styles unique and flowing, but not too experimental. All labels aside, we want tales that expand genre, that value imagination in character, narrative, and plot. We want to see something new and different."
Insight
I've sent this market a lot of stories. Nine and all rejected. Kernel Cob is here...
Details
Editor: Sean Wallace
ongoing

Pay: 6 cents per word

Word range: 2,000-6,000

Simultaneous submissions?
No 
Reprints? No
Description
The Dark Magazine sends out rejections fast and furiously. It's one of the reasons I like submitting to them. Instant results. They publish horror and dark fantasy. Sean Wallace is the founder, publisher, and editor of The Dark, and has also edited for Clarkesworld and Fantasy Magazine.
Submission Hints
Don't be afraid to experiment or to deviate from the ordinary; be different—try us with fiction that may fall out of "regular" categories. However, it is also important to understand that despite the name, The Dark is not a market for graphic, violent horror.
Sample Rejection
There is no market that can fire rejections out faster. I normally send my 2000 plus stories here first.
Details
Ongoing Editor: Scott H. Andrews
Pay: 8 cents per word
Word range: under 15,000 words
Simultaneous submissions? Yes
Reprints? No
Description
Beneath Ceaseless Skies has been bringing fantasy adventure stories from pre-tech worlds to readers since October, 2008. This is another SFWA-qualifying magazine with absolutely breathtaking cover art and award-winning short stories.
Submission Hints
"We love traditional adventure fantasy, but we also love how the influence of literary writing on fantasy short fiction has expanded the genre, encouraging writers to use literary devices such as tight points-of-view and discontinuous narratives; to feature conflicts that are internal as well as external. We want stories that combine the best of both these styles—set in vivid fantasy or historical paranormal worlds but written with all the flair and impact of modern literary-influenced fantasy." 
To help understand what kind of world they're looking for; here is how they describe secondary-world settings: 
"We want stories set in what Tolkien called a "secondary world": some other world that is different from our own primary world in some way. It could be different in terms of zoology (non-human creatures), ecology (climate), or physical laws (the presence of magic). 
It could be set on Earth but an Earth different from our modern-day primary world in terms of time (the pre-modern historical past of our real-world Earth) or history (alternate history from our Earth's history). It could have a "pre-tech" level of technology, or steampunk technology, or magic as technology, or anything else that's not advanced or modern technology. However, the setting should contain some element that is in some way fantastical, and the qualities of the setting should have some bearing on the rest of the story. 
We are NOT interested in urban fantasy or other types of stories set in our modern, contemporary "real world," even if they contain fantasy elements, or in stories that move between the real world and a fantasy world."
Sample Rejection
This editor is one of the best in the business IMO. Not that I've sold anything here yet. I've got my rejection for Zelda's Dust-Crossed Lovers - but as always, some great advice from the editor on how to fix a few flaws.
Editor: Gareth Jelley
Ongoing

Pay: 1.5 Euro cents per word

Word range: 2000-17,500 for PRINT

Up to 5000 for digital
Simultaneous submissions? Yes (as of July)
Reprints? No
Description
Interzone has long been one of the most exclusive and highly regarded sci fi magazines in the industry.

Interzone was founded in 1982 by David Pringle, John Clute, Alan Dorey, Malcolm Edwards, Colin Greenland, Graham Jones, Roz Kaveney, and Simon Ounsley. It was published by TTA Press and edited by Andy Cox from 2004 to 2022, and from #294 it is published by MYY Press and edited by Gareth Jelley.
Submission Hints
They are currently looking for submissions of fantastika (including horror)
Insights
This magazine has won a Hugo and launched a few careers. it is now owned by MYY Press, and edited by Gareth Jelley. I have quite a few rejections from here. Sometime I've received a nice personalized note. I really am fond of this market.-- Gareth wants writers to wait 21 days between submissions

Details
Mystery Writers of America approved
Open for submissions: ONGOING
Editor: Kerry Carter
Pay:2c a word
Word range:1000-7500
Simultaneous submissions? yes
Reprints? no
Description
At the cutting edge of crime fiction, Mystery Magazine presents original short stories by the world's best-known and emerging mystery writers. The stories we feature in our monthly issues span every imaginable subgenre, including cozy, police procedural, noir, whodunit, supernatural, hardboiled, humor, and historical mysteries. Evocative writing and a compelling story are the only certainty.
Submission Hints
They use a form for submissions (click on magazine cover). They are looking for You-Solve-It mysteries and other short stories.
My Insights
High hopes that I can sell to this market one day. They send their rejections in good time, and I love their content.
Editor: Steve Oliver

Pay: $25 per story

Word range: 1,000-7,500

Simultaneous submissions? No
No 
Reprints? No
Description
The Dark City Mystery Magazine is the product of a community of crime and mystery writers and fans who spend an inappropriate amount of time exploring the dark side of human nature as expressed by its criminal behavior. The magazine is produced by Dark City Books, a publisher of crime and mystery anthologies and collections.
Submission Hints
The Dark City is dedicated to the love of story, and in particular, the rough and tumble of the world of crime and violence. We are fans of story that has roots in reality but we do consider humorous situations and characters to be part of reality. We hope to acquire stories that leave readers thinking about the characters and their dilemma.
Insights
I sent them The Midlife Storm. rejected. In 2018. time to try again?
Details
CRIME FICTION JOURNAL
Open for submissions: ONGOING
Editor: Tim Hennessy
Pay:$50
Word range:1500-7500
Simultaneous submissions? Yes
Reprints? Yes $25
Description
Tough is a crime fiction journal publishing short stories and self-contained novel excerpts of between 1500 words and 7500 words, and occasional book reviews and essays of 1500 words or fewer. We are particularly interested in stories with rural settings. We are a crime journal.
Submission Hints
They adamantly only take submission through Submittable and it better be in the RTF format.

Tough publishes three times per month on Mondays, for which we pay a flat rate per story, book review or essay (as of contract date January 23rd, 2021, that rate is $50) --we don't take poems--in exhange for first world serial rights to publish the submission on the website and one-time anthology rights. Query toughcrime@gmail.com for details or to pitch reviews, essays and reprints. Fiction need not be queried.
OPEN ongoing
Editor: Benjamin DeHaan
Pay: 1 cent per word 

word range: 3000-4000 

Simultaneous submissions?No
Reprints? No

Description
Dark Void Magazine is a biannual science fiction horror magazine featuring four original short stories that take place off planet Earth.
Submission Hints
If your story is on Earth it will be rejected... Or if it is less than 3000 words.
BEST BOOKS TO TEACH YOU THE SKILL OF WRITING SHORT STORIES