Recommenced Reads & Cool Resources
I love this guide. It's easy to use, fun to read, and a great resource if you can't figure out how to structure a romance novel. I'm currently using it for my very first paranormal romance novel. (Seth my Leech Man is looking for love.)
How I Write: Secrets of a Best-Selling Author
This book is full of good advice and interesting facts. I think any author looking to figure out the mystery market should read it. I love Stephanie Plum and her mis-adventures.
DreamForge Anvil & The Dreamcasters
I've joined a group of writers, and it is the single most amazing thing I ever did for my writing. Not only have I found a community of like-minded content creators, but I am learning so much at a very low cost. For a $4 a month Patreon pledge, the Dreamcasters have meetings, do writing assignments and get advice from the greatest minds in the speculative short story business.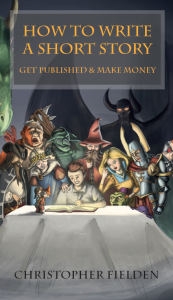 Christopher Fielden is an interesting resource for writers. He's written a book (same vein as mine) about selling short stories, but also has a whole whack of other fun stuff on his website! 
Angeline Trevena is a fellow horrortree.com contributor and a world-building expert! She has several addictive fantasy series and 3 guides to world-building available.