Janet Hutchings from Ellery Queen Mystery Magazine shares her insights. What does she buy and why? 
Hint: Click Picture to be taken to website for each call.
Details
Editor: Jonny Pickering
ongoing

Pay: 6 Pence per word

Word range: 2,000 max

Simultaneous submissions?Yes
No 
Reprints? No
Description
Seize The Press is the literary melding of Ursula Le Guin, Thomas Ligotti and Rosa Luxemburg. A brand new online magazine for dark speculative fiction and anticapitalist sci-fi, fantasy and horror pop culture analysis. Neon, dragons and gore. We pay pro rates to writers and aim to build a solid community where writers are paid well for their work and readers get some top tier fiction and media criticism. And if we get to dunk on Disney in the process then that's just the cherry in the pie.
Submission Hints
Seize The Press Magazine is looking to publish dark, transgressive speculative fiction. Bleak sci-fi, dark fantasy and horror only. We're looking for stories that aren't didactic or moralistic. We want stories where everything isn't wrapped up neatly at the end. We want to promote a diverse range of voices from authors who write messy characters, so give us your problematic queers and your angry women—we want your difficult and morally questionable characters in unpleasant situations who don't slide neatly into a narrow definition of positive representation and don't fit the model minority mould.
My Insights
The stories are free to read on this website. And they are strange. I read "Eating Bees From The Ass of God" and "Some Seeds Only Bloom After Burning." They were both a tad disturbing and well-written. So, this market is a curiosity for me. Who doesn't like to let their inner weird rage?

I got a standard rejection from Jonny Pickering. "Thank you for submitting "Dolores and the Dark Dilemma" to Seize The Press Magazine. I appreciated the chance to read it. Unfortunately, the story is not what we're currently looking for. I'm going to pass this time, but I wish you the best of luck finding a home for the story."
But I am trying again with a story I wrote about a weird Greek festival Skirophoria. It is an actual thing where women eat cookies baked in the shapes of male genitalia.
Details
Editor: Tom Payer

Open: ongoing
Pay: $200

Word range: 500-1500

Simultaneous submissions? Yes

Reprints? No
WE ARE ACCEPTING SHORT FICTION AND COMMENTARY SUBMISSIONS. But but BUT... we are moving slowly. If you write quality short fiction, send us your stuff. But you might need to wait, as AHOY has been buried by submissions.
Submission Hints
Mostly, we want short fiction for mature readers, pieces that uphold the story-telling legacy of comics. It could be a delirious rant, a personal anecdote, a tale of horror or even poetry. It can be about anything, but we have a soft spot for submissions with a dash of humor. These stories can be political, but they must not be based on events that might be outdated by the time we publish. Whatever the subject, it must still be relevant a year from now. Also, the 1,500-word maximum is pretty much carved into stone. We don't plan to go above that limit. Our ideal length is about 654.53 words, give or take.
My Insight
This is a new market- I like what they have to say...
"We want to build a reputation for quality writing, and for treating our contributors respectfully, the way we'd want to be treated. If you don't hear from us in, say, three months, something may have slipped between the cracks. Please feel free to send us a reminder. We won't secretly hold it against you (as other publishers do.)"
Details
Editor: Wendy Lesser
Open till end of April
Pay: $400 

range: max 4000
Simultaneous submissions? NO
Reprints? No

Description
"The Threepenny Review is as lively and original a literary magazine as exists in this country. Mercifully compact, uncompromisingly elegant, animated by the curiosity of its editor, it mixes the legendary and eminent with the unknown, which the eminent were when Wendy Lesser first published them. Not an issue goes by without some unexpected marvel." —Louise Glück
Submission Hints
--All online submissions must consist of a single document in Word format (.doc or .docx). If you are submitting prose, the document should consist of a single article or a single story. If you are submitting poetry, please group your poems into one document containing no more than five poems, because the online system will not accept more than a single document from each person. Please include your name and address somewhere on the document as well as in our submission form.
-- We do not print material that has previously been published elsewhere, and we emphatically do not consider simultaneous submissions. We do our best to offer a quick turnaround time, so please allow us the privilege of sole consideration during that relatively brief period; writers who do not honor this request will not be published in the magazine.
--Response time for submissions can range from two days to two months. Please do not submit more than a single story or article, or more than five poems, until you have heard back from us about your previous submission. If you have not heard from us within a couple of months, you should assume that either your communication or ours has gone astray. 6. We strongly recommend that you stay within our length limits. As a rule, critical articles should be about 1200 to 2500 words, Table Talk items 1000 words or less, stories and memoirs 4000 words or less, and poetry 100 lines or less. (Exceptions are occasionally possible, but longer pieces will have a much harder time getting accepted.) We prefer to read prose submissions that are double-spaced; poetry can be single-spaced or double-spaced.
My Insights
I would love to make $400 writing under 4000 words, right?
Details
Editor: Sean Clancy
Open till May 2nd
Pay: 5 cents per word 

range: 2000-5000 

Simultaneous submissions?Yes
Reprints? No

Description
How do you beat the name Planet Scumm? Plus, they have a retro 80's look to their website. This science fiction magazine is published by Spark & Fizz Books.
Submission Hints
"On Planet Scumm, we want to read stories that are different and unexpected. Stories that introduce new ideas, or that look at old ideas with a fresh perspective. 
They are looking for: Hard sci-fi, soft sci-fi, sci-fi that melts in your mouth-brain not your hand-brain. Speculative fiction, weird fiction, slipstream Basically anything that pleases Scummy, our megaphone-toting slime buddy, will be considered for entry to the interstellar archive aboard Scummy's saucer."
My Experience with Them
They actually were holding my story "A Deadful Friday the 13th" for consideration when I withdrew it after having it accepted by Creepy Pod. Very enjoyable to correspond with them. But they've rejected my last two stories with form letters. I think I'll try again this month!
Details
Editor: Stephen J. Golds
Deadline May 1st - successful authors emailed by May 6th

Pay: 30 Pounds

Word range: 3,500-6,000

Simultaneous submissions? ?
No 
Reprints? ?
Red Dog Press is looking for Great Crime, Mystery and Thrillers from Unique Voices.
In November 2022, we will publish the first Red Dog Press Crime Fiction Anthology. Edited by Stephen J. Golds, this will be a collection of stories under the title GONE. All that we ask is that what you submit is a unique and powerful piece of crime fiction, clearly related to the theme 'GONE'.
Submission Hints
We'd love to find characters we haven't seen before and new angles on traditional crimes. Our small team are passionate about bringing the best stories to market, and our personal touch is aimed at bringing new voices to the crime and mystery world.
My Insight
I am curious about the thriller/crime market. The Horror market is fun, but I am wondering if there is more $ and opportunity in a more conventional - broader reaching genre? Stick with my writing friends... the ever elusive hunt for the money in writing continues.
Details
Publisher: Kopfkino Media

Open till Apr 30
Pay: $25-$150 cdm

Word range: 1,000-7,000

Simultaneous submissions? Yes

Reprints? yes
Midnight in the Dying Garden: Fairy Tales for the End of the World is a book of horror stories with a fantastical twist. We're looking for tales that are horrific, enchanting, and sometimes lovely. We want stories that showcase devastation and ecstasy, divinity and savagery, terror and bravery, beauty and hideousness, joy and despair, and everything in between. Think of a story that might be a swan song for a fading earth…or a simple lament for a dying garden.
Submission Hints
While we have no preference in regards to setting, time, or place and while dark fairy tales and mythic stories are certainly welcome, we aren't looking for alternate universe stories. All submissions should more or less take place in this world/reality.
My Insights
I know nothing about them, but what a neat call.
Details
Editor: Andrew Leon Hudson

Open Apr 23-30
Pay: $20

Word range: 1,000-7,500

Simultaneous submissions? Yes

Reprints? No
Established in 2008 by Gil Williamson, Mythaxis has always been focused on the fiction, with as little distraction as possible - no ads, no clutter, just words on the page to transport you somewhere else.
Submission Hints
We anticipate an adult readership in the sense of maturity, so reasonable depictions of violence, sexuality, philosophy, or bad language are acceptable. However, this is not a market for pornographic or offensively extreme content, categorisation of which is at the editor's discretion.
Sample Rejection
I sent them my re-imagined fairy tale "The Not So Little Mermaid" and I got this rejection: "Thank you for your submission, but on this occasion I'm going to pass. I'm afraid the story doesn't really match our needs at Mythaxis, and on the whole we don't usually go for (even semi-)homages of existing characters or story worlds."
Details
Editor: Brandon Applegate
Open April 1-30

Pay: 3 cents per word

Word range: 1500-4000

Simultaneous submissions? Yes
No 
Reprints? No
Description
Hungry Shadow Press is run by author Brandon Applegate with the goal of showcasing short fiction from both up-and-coming and established writers in dark, weird, fantasy, and horror fiction.
Submission Hints
What are we looking for? Short horror, weird, dark fiction between 1500 and 4000 words (firm limit) that take your least favorite horror trope and make it work. Take a trope that's well-worn, overused, predictable, tough to swallow, and scare the hell out of us with it. Turn it on its head, or make it bizarre enough to still surprise. Really take some time to understand why your chosen trope often fails and how you can make it into a successful (read: scary, surprising, weird, shocking, heartwrenching, maybe even funny) horror story.
My Insight
Brandon Applegate has created an interesting brand. Check out his website. Very nicely done. I think this call looks like fun.
Details
Editor:not listed Water Dragon Publishing
Open Feb 1-July 30th

Pay: 2 cents per word

Word range: 2,000-10,000

Simultaneous submissions? NO
No 
Reprints? No
Description
The pandemic came and the world changed. Lives have changed; work has changed. The boundaries between reality and fantasy have become as blurred as those between life and work. Corporate Catharsis: The Work From Home Edition gives you the opportunity to explore the impact of the COVID pandemic on your personal and professional life through your speculative fiction. We're certain that you can, far too easily, find inspiration from your real or virtual workplace. Magic, mayhem, revenge — and, yes, perhaps even redemption — can all be found there.
Submission Hints
Your story does not need to be set in a corporate environment. We welcome stories involving, among other settings, retail, education, or stay-at-home parenting. Your story can be from whatever genre best fits its theme, but should contain some fantastical element. However, we are not looking for erotica or stories that contain excessive gore or violence. Please leave your politics at the door. While politics might play a role in your story, your story should not be a political message.
My Insights
New market for me.
Details
Editor:not listed Water Dragon Publishing
Open Feb 1-April 30

Pay: 2 cents per word

Word range: 2,000-8,000

Simultaneous submissions? NO
No 
Reprints? No
Description
If you could catch a glimpse of the future, what would you hope to see? An environmentally-friendly paradise? High-tech advancements? Newly-evolved species of wildlife? For this collection, we want positive visions of the future. Show us terraces covered in gardens and solar panels, sprawling colonies under glass on Mars, and the explorers of tomorrow. Tell us what you think cities will look like in the year 2300, what it would be like to take a cruise on a spaceship, or what new organisms might evolve in the Amazon rain forest. Science fiction, fantasy, humor, and weird fiction are all welcome.
Submission Hints
Your story can be from whatever genre best fits its theme. However, we are not looking for erotica or stories that contain excessive gore or violence. You may submit more than one story. However, we will only publish one of your stories in this edition, so choose wisely. Please wait until you have been notified about the acceptance status of your story before submitting another one.
My Insights
New market for me.
Details
Editor: Sean Wallace
ongoing

Pay: 6 cents per word

Word range: 2,000-6,000

Simultaneous submissions?
No 
Reprints? No
Description
The Dark Magazine sends out rejections fast and furiously. It's one of the reasons I like submitting to them. Instant results. They publish horror and dark fantasy. Sean Wallace is the founder, publisher, and editor of The Dark, and has also edited for Clarkesworld and Fantasy Magazine.
Submission Hints
Don't be afraid to experiment or to deviate from the ordinary; be different—try us with fiction that may fall out of "regular" categories. However, it is also important to understand that despite the name, The Dark is not a market for graphic, violent horror.
Sample Rejection
Out of curiosity, has anyone gotten an acceptance from Sean? I send him stories regularly and he rejects them so quickly, he must only be reading the first line. I get form rejections like this...
Dear author, We have read your submission and unfortunately your story isn't quite what we're looking for right now. While we regretfully cannot provide detailed feedback due to the volume of submissions, we thank you for your interest in our magazine and hope you continue to consider us in the future.
Rolling Submission Window OPEN
Publisher/Editor: Neil Clarke
Pay: 10 cents per word
Word range: 1,000 - 22,000

 Simultaneous submissions? No
Reprints? No 

Description
Clarkesworld is an award-winning science fiction and fantasy magazine. A SFWA-qualifying market, it was first published in 2006 and is one of the top places speculative fiction writers want to see their work. It comes out monthly, and contains interviews, stories, and articles. They accept stories from all over the world and say translations are welcome. They also have a podcast which features a story from the current issue.
Submission Hints
The submission guidelines state: 
"Science fiction need not be "hard" SF, but rigor is appreciated. Fantasy can be folkloric, contemporary, surreal, etc. 
That said, there are some things that we've grown tired of and can be difficult or impossible to sell to us: (this is not a challenge) 
• stories that include zombies or zombie-wannabes 
• stories about sexy vampires, wanton werewolves, wicked witches, or demonic children 
• stories about rapists, murderers, child abusers, or cannibals 
• stories where the climax is dependent on the spilling of intestines 
• stories in which a milquetoast civilian government is depicted as the sole obstacle to either catching some depraved criminal or to an uncomplicated military victory 
• stories where the Republicans, or Democrats, or Libertarians, or . . . (insert any established political party or religion here) take over the world and either save or ruin it 
• stories in which the words "thou" or "thine" appear 
• stories with talking cats or swords 
• stories where FTL travel or time travel is as easy as is it on television shows or movies 
• stories about young kids playing in some field and discovering ANYTHING. (a body, an alien craft, Excalibur, ANYTHING). 
• stories about the stuff you just read in Scientific American or saw on the news 
• stories about your RPG character's adventures 
• "funny" stories that depend on, or even include, puns 
• stories where the protagonist is either widely despised or widely admired simply because he or she is just so smart and/or strange 
• stories originally intended for someone's upcoming theme anthology or issue (everyone is sending those out, wait a while) 
• your trunk stories 
• stories that try to include all of the above" 

Sample Rejection
"Thank you for the opportunity to read "The Metamorphosis." Unfortunately, your story isn't quite what we're looking for right now. In the past, we've provided detailed feedback on our rejections, but I'm afraid that due to time considerations, we're no longer able to offer that service. I appreciate your interest in Clarkesworld Magazine and hope that you'll keep us in mind in the future."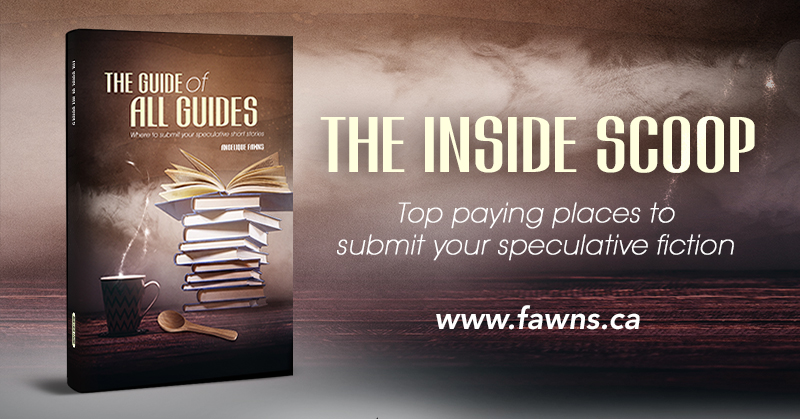 Like this list? The Guide of all Guides.