Looking for your next "can't put down" read? Here is a list of books that grabbed me from the get go.
THRILLERS? SCI-FI? MYSTERY? I took a look at what makes my favorite books work. POV? First line? Log line?
NOVELLAS
Editor: Sadie Hartmann
Open for submissions: Feb 1- April 1
Pay: $1000 advance
Word range: 25,000-45,000
Simultaneous submissions? Yes
Reprints? No
Description
Hello, my name is Sadie Hartmann but I'm also known in certain circles as Mother Horror. My favorite thing is to find fresh, talented voices in the genre of horror. It's difficult to get readers to notice you out there in the wild, so this is your opportunity to come into My Dark Library and share with me the strange, cold, dark well within you from which you draw your stories. I am editing and presenting a series of novellas through Cemetery Gates Media and will write an introduction for each selection, then we'll promote your work to a hungry legion of horror fans.
Submission Hints
I am specifically interested in: Authors who have found themselves in a genre-trap and are looking for a way to showcase another storytelling voice for a different fanbase. In My Dark Library you will find psychological, folk, quiet, supernatural, paranormal, body, found-footage, coming-of-age, spiritual, demonic, occult, cosmic, slasher horror. I'm not currently interested in extreme, science-fiction, bizarro, erotic, apocalyptic, creature/cryptid, zombie, eco, comedy horror. I especially love cultural folklore and urban legends from BIPOC, Native American, and LGBTQ voices. This is an open call to anyone and everyone—not limited to new or unpublished voices. Even if I have read and admired your work one hundred times, I would still be over the moon to see a submission from you.
My Insights
This is a call from Cemetery Gates. I've submitted to scads of their short story calls. They pay well but I haven't made a sale here yet.
Editors: Paula Dias Garcia & Sam Agar
Open for submissions: Feb 1- April 1
Pay: 150 euros
Word range:5000 max
Simultaneous submissions? Yes
Reprints? No
Description
For our first anthology of 2022, we are taking inspiration from Wallace Stevens' poetry, and asking for stories that look upon the world with a mind of winter and behold nothing that is not there and the nothing that is (paraphrasing The Snowman). For our prompt, we are looking for short stories that reflect our title: The Last Five Minutes of a Storm. As always, you can also take inspiration from the artwork we've chosen for the cover, created by artist Pedro Vó! We are looking for emotional responses to the title and/or the cover – stories that come from the specific place of mind they take you to. (if in doubt, make a cup of tea and read Thirteen Ways of Looking at a Blackbird).
Submission Hints
They are looking for magical, unexpected, weird stories.

There are many things we want Sans. PRESS to be: an editorial imprint; an independent publisher; a staunch supporter of new voices in literature; a constant presence in your bookshelves.

As of right now, we are a collective of friends who are in love with telling stories, and who are passionate about sharing them. We are united in our passion for finding new voices, new narratives, new ways of seeing and sharing the world. And as we progress in this project, this will always be what's at the core of Sans. PRESS: finding stories that fascinate us. --they read blind. no name on the story
My Insights
I've never heard of them before. But what an interesting call.
Editors: David Fey & Emily Young
Open for submissions: March 7- onwards,
Pay$25 US
Word range: max 3000
Simultaneous submissions? No
Reprints? No
Description
The Quiet Ones is a tri-annual e-zine that centers LGBTQIAP+ and women's voices in the subgenres of quiet horror and intimate dystopian fiction, both for YA and Adult audiences.

"Quiet Horror" applies to atmospheric, unsettling stories that rely more on mood and rhythm than on shock and gore. Examples of quiet horror include: classic ghost stories and shorts like The Tell-Tale Heart by Edgar Allan Poe, modern moody masterworks like The Walls Around Us by: Nova Ren Suma, and films such as The Exorcist III or Pontypool where so much of the horror is left to the viewer to imagine as opposed to horror films that bombard their audience with scenes of excessive gore and jump scares. "Intimate Dystopia" is all about scale. We're looking to zoom that lens in – show us the personal, everyday impact of living under totalitarian regimes, or heavily restricted environments – anything from haunted houses to run-down clubs or playgrounds – anywhere upon which the larger trappings of dystopian visions apply. For post-apocalyptic stories, give us small, contained spaces which explore life in the ruined world. Examples of intimate dystopia include: Speech Sounds by Octavia Butler, Wool by Hugh Howey, and films such as Quarantine (or [Rec]), or Tale of A Vampire.
Submission Hints
Feel free to interpret the "Post-Apocalyptic" part of the theme as broadly as you like, from entirely ruined worlds to the confines of a single-family dwelling after, for example, a catastrophic fire. Your work should contain quiet horror elements.
We primarily seek creative work from those who identify as LGBTQIAP+, women, and allies. We're especially fond of (though do not require) stories that center LGBTQIAP+ and female characters. That said, we welcome work from anyone and everyone, and we do not automatically disqualify any submissions based on the author's identity, nor do we require our contributors to share their sexual or gender identities.
My Insights
Another new market for me!
Submissions Editor: Brahidaliz Martinez

Open for flash fiction March 14-21
Pay: 10 cents per word
Word range: 750-1,500 

Simultaneous submissions? Yes 

Reprints? No
Description
Uncanny magazine specializes in stories that make you feel. Classifying itself as an on-line/eBook/podcast SF/F magazine, their cover art is breathtaking. It has won multiple Hugo Awards, a Parsec Award, and a British Fantasy Award. The two Editors-in-Chief; Lynne M. Thomas, and Michael Damian Thomas, have also won several Hugo Awards. It is a SFWA-qualified market. 
From the website: 
"Uncanny Magazine is an online Science Fiction and Fantasy magazine featuring passionate SF/F fiction and poetry, gorgeous prose, provocative nonfiction, and a deep investment in the diverse SF/F culture. Each issue contains intricate, experimental stories and poems with verve and imagination that elicit strong emotions and challenge beliefs, from writers of every conceivable background. Uncanny believes there's still plenty of room in the genre for tales that make you feel."
Submission Hints
Lynne M. Thomas (co-publisher & editor-in-chief) said in a reddit interview: "For me it's not necessarily about a kind of story, it's about how the kind of story is executed.
I'm interested in stories that are inclusive of the gamut of the human experience, and I want to see a bit more whimsy." 

Sample Rejection
"Thank you for submitting "The Patron Saint of Livestock" to Uncanny Magazine for consideration. Unfortunately, we're going to pass on this one. It just didn't work for us. We look forward to reading further submissions from you."
Publisher:Samantha Kolesnik
Deadline April 1
Pay: 4 cents per word
Word range: max 2000-5000
Simultaneous submissions? Yes
Reprints? No
Description
Moonflowers and Nightshade is an anthology of sapphic horror short fiction by a diverse group of authors. Chilling horror stories ranging from psychological character studies to terrifying tales of body horror, from supernatural nightmares to Gothic ghost stories--and everything in between, and all with prominent sapphic themes and content. There is currently so much room and need for more sapphic content in the horror literary genre. Moonflowers and Nightshade will include a diverse group of stories, including but not limited to stories involving genderqueer, non-binary, BIPOC, genderfluid, lesbian, trans, bisexual, and pansexual characters.
Submission Hints
Stories must prominently include sapphic themes, characters, and/or content, and be in the horror genre. All subgenres of horror welcome.
My Insights
Another new one!
Publisher: Bailey Hunter
Open for submissions: Spring issue till Feb 15th,
then Summer issue Feb 16-May 15
Pay: 5 cents per word
Word range: max 500-5000
Simultaneous submissions? Yes
Reprints? No
Description
Dark Recesses Press began in 2005 with an idea and desire to create a home where there was none.
It was originally an award winning fiction magazine of dark fiction, art, and non-fiction. After 13 issues we took some time off to regroup, shift our focus, and come back to publish books exclusively – this was in 2014.
In 2017, we grew again. After the acquisition of Belfire Press, DR had taken on a wider dark fiction arena which has opened up avenues towards YA, and Poetry among others. In addition to focusing our attention on novels, collections and anthologies born in the dark corners of your mind, Dark Recesses Press has now resurrected the beloved magazine.
We are currently undergoing a growth spurt so please mind our gangly bits.
Submission Hints
They are looking for horror/dark fiction pieces between 500-5000 words firm. Common sense when submitting please. They do not accept stories that involve the sexual abuse/exploitation of minors direct or implied. They are not looking for pure shock value. All components of your story should have merit. Gore for gore's sake is not what they are looking for.
My Insights
I sent them a story on Oct 31st, and they sent me back a response on Nov 3 (but it went to my promos folder!). "We thank you for your submission, however after review we have decided that it is not quite the right fit for Dark Recesses Press at this time. We wish you all the best in finding a suitable home for this piece, and welcome further submissions from you in the future. Regards, Dark Recesses Press"
Dark Matter Magazine
Sadie & Ashley
Open for submissions: Feb 15-March 15
Pay: 8 cents per word
Word range: max 2000-4000
Simultaneous submissions? Yes
Reprints? No
Description
Dark Matter Magazine was started during 2020. It is the brainchild of a dedicated group of science fiction enthusiasts with professional backgrounds in trade publishing, peer-reviewed science journals, marketing, corporate communications, broadcast news media, television, to name a few.
Dark Matter Magazine is proud to announce our first foray into trade publishing with a new horror anthology edited by Sadie Hartmann and Ashley Saywers of Night Worms. The anthology will include at least 80,000 words of new horror fiction curated by Sadie and Ashley, and the book will be included in a future Night Worms book box. The tentative publish date for the anthology is October 2022.
Submission Hints
From Sadie and Ashley: We are looking for stories centered around one of our favorite sub-genres, Human Monsters. We enjoy twisty-turny, dark, psychological, thrilling, dangerous, menacing, gothic, strange, ugly, murderous, messed-up tales of people doing awful, no-good, very bad things to one another. We are not looking for anything cosmic, paranormal, science fiction, cryptid/creature, or supernatural at this time. Just monsters in human skin, please. Tell us what they do.
My Insights
None yet, this looks like an intriguing project.
First Reader M. Bennardo
Open for submissions: till March 31
Pay: 1 cent per word min $25
Word range: max 1500-5000
Simultaneous submissions? Yes
Reprints? No
Description
We're indulging our obsession and going "Prehistories" at last. What does your fiction speculate about sunken Doggerland or the vanished human species that homo sapiens displaced? How would you fill in the traces left by the Sea Peoples and other Bronze Age cultures we know next to nothing about? What does your fantasy look like using only Stone Age tech? If you have tales about megafauna, archeologists, ancient Earth, or low-tech secondary worlds, we want to read them. (
Submission Hints
The "spec" element can be overt or subtle (so blow us away with realism if it possesses the merest twinge of strangeness). Fantasy, SF, slipstream, post-apocalyptic, magic realism, mythopoeia, folktale, grimdark, weird, or any flavour of 'punk, it's all good, BUT WAIT! Read this before submitting — we prefer stories with experimental prose and structures (though by "structure" we don't mean typography or layout, such as shaped prose; varying e-reader settings make it hard to control for shape on the user's end).
My Insights
new market for me I like the idea of "alternate structures"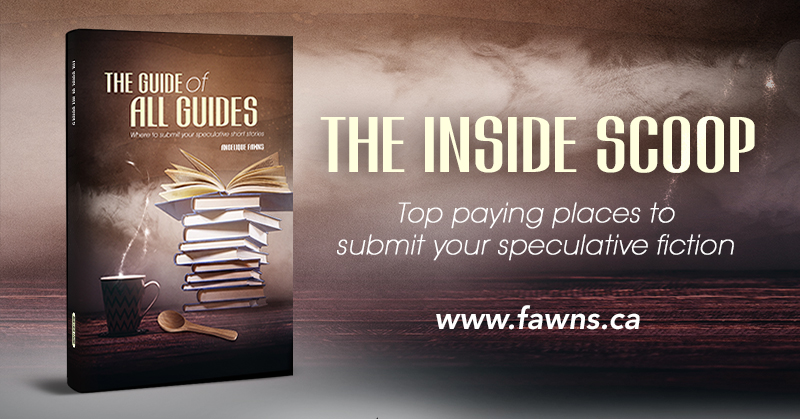 Like this list? Get A WHOLE BOOK of them. 99c. Highest paying listed first!
Editor: Lezli Robyn
Open for submissions: now until portal filled
Pay: 7 cent per word
Word range: max 10000
Simultaneous submissions? No
Reprints? No
Description
Galaxy's Edge is a bi-monthly science fiction and fantasy magazine that has been published for over a decade, with new issues going live every January, March, May, July, September and November. Galaxy's Edge magazine has been edited by Lezli Robyn for several years, taking over from former editor Mike Resnick following his passing. Published by Shahid Mahmud under the Phoenix Pick science fiction and fantasy imprint of Arc Manor Publishers.
Submission Hints
We are a science fiction and fantasy magazine, so we would love to receive fiction from those categories as well as any sub-categories, such as space opera, steampunk, urban fantasy, africanfuturism, magical realism and so on. We do not publish straight horror stories, even if they do have a supernatural element, but if you have a dark fantasy story, or a dystopian science fiction piece, send it our way—we'd love to take a look.

Keep us from yawning: While we have all read some great vampire, werewolf or zombie stories, and we get that writers want to write towards popular trends, we are unlikely to buy a story that appears a carbon copy of something we could have read in so many other publications. Be original. Either put your own very distinct twist on a trope, catching our interest, or submit something completely unexpected.
My Insights
I would love to land a story here. A very reputable market.
SNAFU: WANTED DEAD OR ALIVE
Editors: Amanda J Spedding and Geoff Brown
Open for submissions: now until March 31
Pay: 5 cent per word AU
Word range: max 2000-10000
Simultaneous submissions? no
Reprints? No
Description
Cohesion Press is an award-winning press based in Australia. We have some of the biggest names in the military and action-based speculative fiction scene publish with us. We recently underwent some structural changes, and now we only publish anthologies of action-based horror, military horror, and military sci-fi. Our flagship series SNAFU will be back mid-2018, and the next SNAFU will be released late 2018. We have published some of the best writers in the business, including Jonathan Maberry, Weston Ochse, Joseph Nassise, Jeremy Robinson, Kane Gilmour, SD Perry, James A Moore, Greig Beck, and Matt Hilton.
Submission Hints
WHAT WE WANT ACTION-BASED horror, themed within conflict in the wild, wild West. Think Bone Tomahawk, Ravenous, Westworld, Cowboys & Aliens and The Burrowers for films, and Dead in the West by Joe Lansdale, Deadlands: Ghostwalkers by Jonathan Maberry, Skin Medicine by Tim Curran, and The Crossings by Jack Ketchum for writings… anything that can be considered a high-action monster story set within an obviously Western theme. For level of unnatural creature we will give priority to, think Dog Soldiers or Aliens in oldie times. We want lots of monster goodness and lots of action. We will also be looking for soldiers/cavalry, bandit gangs (or bandidos, for south of the border), sheriffs, private security for gold claims. Hell, even a group of bodyguards protecting some arsehole business overlord in his desert property. Just ensure the action is central to the story, from start to finish, and don't forget monsters! This volume is like the previous volumes squared. All action. We want extreme action, and it really should be in the style of military or paramilitary action, although we definitely see cowboys or a posse or bandit gang or demon hunters as suitable in this theme. And to say it again, full action. Nothing less. Hoo-rah!
My Insights
As a cowgirl who is told by all her writing coaches that she puts too much action in her stories... maybe this is the right market?