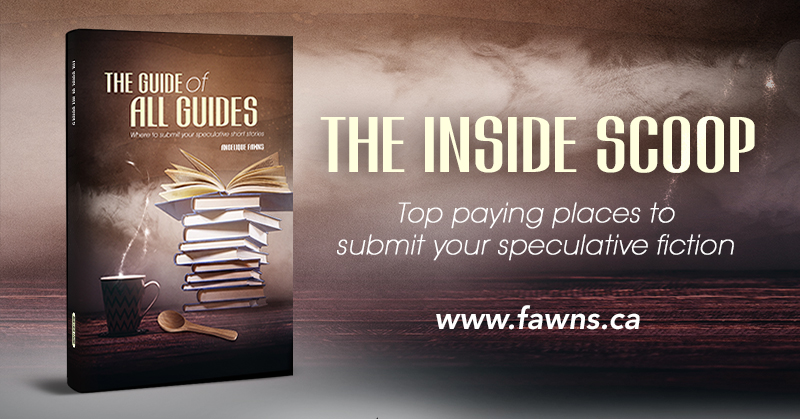 This was a sample of what you can find in The Guide of All Guides. GET IT NOW from your favorite ebook retailer.
Anthology: Spirit Machine
Editor: Todd Saunders
Pay: 8 cents per word 

word range: 1,500-3,500 

Simultaneous submissions?No
Reprints? No
June 1- July 31
Description
Spirit Machine is seeking stories that drift in alternate realities of Spirit Machine, and anthology that merges Science Fiction with Spiritualism and/or a dash of Steampunk. Theme Seance Fiction – A mashup of Spiritualism (seances, ouiji/spirit boards, kirlian auras, discarnated entities, ghost talking) and Science Fiction and/or Steampunk genres. Be wild, take chances, submit stories that are left of center. Show us your fireworks! Stories must combine elements of both Spiritualism and Science Fiction/Steampunk SF. No fantasy stories, no standalone ghost stories, no SF without aspects of Spiritualism.
Submission Hints
Don't make the same mistake I did! Spiritualism is not the same as Spirituality. I sent in a fantasy story with religious undertones. What is really amazing it the editor took the time to get back to me personally and let me know I'd misinterpreted the guidelines. Kudos to Todd Saunders. Sometimes I get discouraged by form rejections, but Saunders has renewed my faith! Or should I say, my belief in alternate positive realities?
Correspondence from Saunders
One quick note - judging by a brief summary reading, you may have confused Spiritualism (communicating with the dead, seances, ouija boards etc..) with Spirituality (religion). From the submission page (http://aanpress.com/submissions.html) I am looking for stories that combine elements of both Spiritualism and Science Fiction/Steampunk SF. No fantasy stories, no standalone ghost stories, no SF without aspects of Spiritualism.
Editor: TL Spezia
Pay: 5 cents per word 

range: 2000-6000 

Simultaneous submissions?No
Reprints? Yes

Description
We publish in the horror and dark fantasy genres and are open to almost anything you can imagine within those categories. Traditional Gothic. Pulpy horror with an '80s vibe. Body horror. Ghost stories. Horror comedy. Don't be afraid to submit if your tale falls within the horror and dark fantasy genres. However, we are not interested in stories with extreme violence or overt sexual themes.
Submission Hints
Our mission is twofold: to publish the finest short stories from across the entire genre and to support new and emerging writers in order to bring fresh perspectives to horror literature. Horror engages humanity's darkest fears, anxieties, worries; it peeks behind the curtain and treads where few other genres will. Horror speaks volumes about the human condition, while scaring the bejesus out of us. We hope to live up to this mission with each and every issue of our magazine.
Sample Rejection
Thank you again for your interest in Boneyard Soup Magazine and for allowing us to review your story submission. Unfortunately, the story does not meet our editorial needs at this time. We receive story submissions on a daily basis and the limited space in our magazine means we must reject the majority of what we receive. This makes editorial decisions all the more difficult and frustrating. We sincerely hope your story finds a home soon, and that you'll consider submitting more work in the future.
Details
Editor: Sean Clancy
Pay: 2 cents per word 

range: 2000-6000 

Simultaneous submissions?Yes
Reprints? No
Closes June 13th
Description
How do you beat the name Planet Scumm? Plus, they have a retro 80's look to their website. This science fiction magazine is published by Spark & Fizz Books.
Submission Hints
"On Planet Scumm, we want to read stories that are different and unexpected. Stories that introduce new ideas, or that look at old ideas with a fresh perspective. 
They are looking for: Hard sci-fi, soft sci-fi, sci-fi that melts in your mouth-brain not your hand-brain. Speculative fiction, weird fiction, slipstream Basically anything that pleases Scummy, our megaphone-toting slime buddy, will be considered for entry to the interstellar archive aboard Scummy's saucer."
My Experience with Them
They actually were holding my story "A Deadful Friday the 13th" for consideration when I withdrew it after having it accepted by Creepy Pod. Very enjoyable to correspond with them.
Field Notes from a Nightmare Anthology
Submissions: June 1-June 30
Preference to Dread Inducing Stories
Founder: Alec Ebenstein
Pay: $3c a word
Word range: 1000-4000
Simultaneous submissions? yes
Reprints? No 

Field Notes from a Nightmare will be a print and e-book anthology about environmental and ecological horrors. Though some still try, there is no denying that humans have and continue to drastically alter the earth and its environment. Climate change, pollution, suburban sprawl, deforestation, etc. Give me your tales and observations on these impacts. What horrors have/will we see as a result? How will Mother Nature fight back in a struggle for survival? As long as it's nature/environmental/ecological and horror, it's good.
Submission Hints
Dark weird fiction and horror-adjacent sci-fi is also welcome. Please no fantasy or hard sci-fi. This is an anthology about our earth, so to a large degree your story should be rooted in our reality. Meaning, stories with dystopian elements are expected, but full-on dystopian stories will be a hard sell. Happy endings are also a hard sell, but don't be afraid to try a glimmer of hope. Tropes aren't bad, but preference will be given to unique usage and/or subversion of well-established tropes. Yes, we are pro-environment, but don't be overly moralizing. Nuance is key. Stories that deal with bigotry are fine, but bigoted stories are not. Splatterpunk is fine, but gore and extreme elements should serve story, character, and theme.
Sample Rejection
I've never submitted to this market.
Details
Editor: Trevor Quachi 
 Pay: 8-10 cents per word 
 Word range: up to 20,000 
 Simultaneous submissions? No 
 Reprints? No
Description
This is another founding magazine and big player in the science fiction world owned by Dell Magazines. Analog Science Fiction and Fact Magazine was originally published as Astounding Stories of Science Fiction when it launched in 1930. Analog was where Anne McCaffrey's dragons first took flight! There were three issues from 1967 and 1968 which have the first three novellas in McCaffrey's Dragonriders of Pern series. 
Frank Herbert's sprawling epic Dune also originally appeared in Analog. After being serialized in the magazine, Dune was rejected 23 times before it was eventually picked up by Chilton Books. Dune has been called the best-selling science fiction novel of all time.
Submission Hints
Editor Trevor Quachri says: 
"Analog/Astounding is often considered the magazine where science fiction grew up. When Editor John W. Campbell took over in 1938, he brought to Astounding an unprecedented insistence on placing equal emphasis on both words of "science fiction." No longer satisfied with gadgetry and action per se, Campbell demanded that his writers try to think out how science and technology might really develop in the future – and, most importantly, how those changes would affect the lives of human beings. The new sophistication soon made Astounding the undisputed leader in the field, and Campbell began to think the old title was too "sensational" to reflect what the magazine was actually doing. He chose "Analog" in part because he thought of each story as an "analog simulation" of a possible future, and in part because of the close analogy he saw between the imagined science in the stories he was publishing and the real science being done in laboratories around the world. 
Real science and technology have always been important in Analog, not only as the foundation of its fiction, but as the subject of articles about real research with big implications for the future. One story published during World War II described an atomic bomb so accurately – before Hiroshima – that FBI agents visited John Campbell to find out where the leak was. (There was no leak – just attentive, forward-thinking writers!)" 

Sample Rejection
"Thank you very much for letting me see "The Corp." I'm sorry it didn't strike me as quite suitable to our present needs."
Details
Editor: Jason Sizemore
Pay: 8 cents per word
Word range: up to 7,500
Simultaneous submissions? No
Reprints? No
Description
Apex Magazine focuses on dark and spectacular science fiction, fantasy and horror. Publishing bi-monthly, it used to be called Apex Digest and has been nominated for several awards. It went on hiatus for a while, but is back in business and accepting submissions.
Submission Hints
Apex Magazine is an online zine of fantastical fiction. We publish short stories filled with marrow and passion, works that are twisted, strange, and beautiful. Creations where secret places and dreams are put on display. We publish in two forms: an every-other-month eBook issue and a gradual release of an entire issue online over a two-month period. Along with the genre short fiction, there are interviews with authors and nonfiction essays about current issues. Additionally, we produce a monthly podcast of narrated original short fiction."
Sample Rejection
Thank you for submitting "Invasive Species" to Apex Magazine. We appreciate the chance to read it. Unfortunately, the story does not meet our needs at this time. We're going to pass. I wish you the best of luck finding a home for "Invasive Species" and I hope to read something new from you soon.
Details
Editor-in-Chief: Arley Sorg
Pay: 8 cents per word 

range: 1,500-7,500 

Simultaneous submissions?No
Reprints? No
Currently open to BIPOC writers only right now & open every month from the 1st-7th
Description
Fantasy Magazine is a digital magazine focusing exclusively on the fantasy genre. In its pages, you will find all types of fantasy—dark fantasy, contemporary urban tales, surrealism, magical realism, science fantasy, high fantasy, folktales…and anything and everything in between.
Submission Hints
Fantasy is entertainment for the intelligent genre reader—we publish stories of the fantastic that make us think, and tell us what it is to be human.
Sample Rejection
"Thank you for submitting "The Museum of The Lost People," but it didn't quite work for us. We hope you are able to place this one elsewhere."
Details
Editor: Andrew S. Fuller

Pay: $100 for short fiction, $30 for flash

Word range: 1,001-7,500

Simultaneous submissions? No

Reprints? No
Description
Three-Lobed Burning Eye is a speculative fiction magazine offered free on-line. They publish twice a year, with a print anthology every other year. Each issue features six short stories.
Submission Hints
"Original speculative fiction: horror, fantasy, science fiction. We're looking for short stories from across the big classifications and those shadowy places between: magical realism, fantastique, slipstream, interstitial, and the weird tale. We will consider suspense or western, though we prefer it contain some speculative element. We like voices that are full of feeling, from literary to pulpy, with styles unique and flowing, but not too experimental. All labels aside, we want tales that expand genre, that value imagination in character, narrative, and plot. We want to see something new and different."
Sample Rejection
"Thank you for sending your story to Three-lobed Burning Eye magazine. Unfortunately, we have decided not to accept it for publication. We regret that we cannot offer more feedback and wish you the best in finding a home for this piece."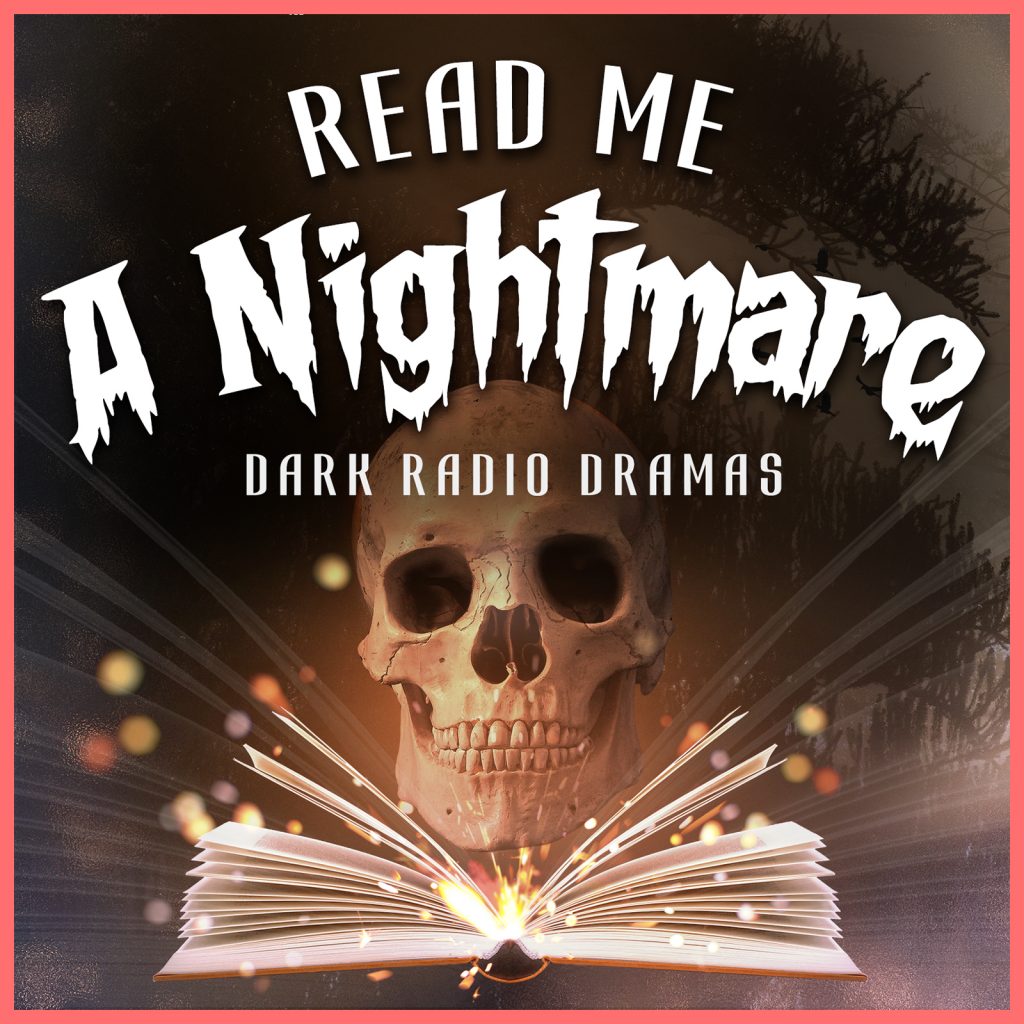 If you like spooky stories... do yourself a favor and take a quick listen!
Including interviews with industry personalities.
Find out why publisher Natalie Brown is now doing more podcasting than publishing
Upcoming interviews include the publishers from some very interesting horror markets.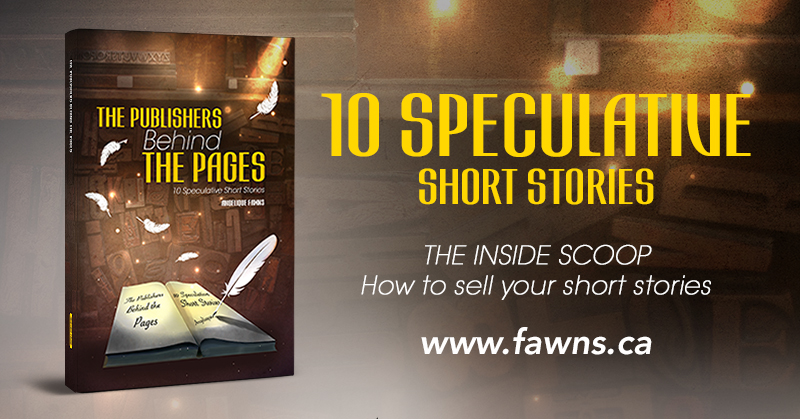 The Publishers Behind the Pages
Read ten intriguing stories. Find out why publishers bought them.