HINT - Click on picture to be taken to submission guidelines
Editor: Brandon Applegate
CANCELLED - DO NOT SUBMIT
Pay: 8c a word
Word range: 1000-2000
Simultaneous submissions? yes
Reprints? no

ANON submissions.
Description
They got sub calls for flash and sub calls for 2000+ but what about those little bastards no one wants? What about those stories YOU wrote for no call at all, just because you wanted to? Those guys that never get picked for dodgeball. Let's find them a home.
Submission Hints
We want the stories you love the most, that you wrote in a fit of fury, passion, grief, or worry. Anywhere between 1000 and 2000. Too big for flash, too small for a short story. Horror only, though we count dark fantasy and gruesome or heart-wrenching literary in there too.

This anthology is open to all writers, but we strongly encourage writers from the LGBTQIA+, BIPOC, and other marginalized communities to submit.
My Insights
This is a very interesting venue with some fun content.
Learn more about Brandon Applegate here!
Editor: Cavan Terrill
OPENS Sept 1-8th
Pay: 4 cents per word - max $350 

range: 2000-15,000
Simultaneous submissions?Yes
Reprints? yes

Description
Science Fiction, or Sci-Fi tinged literary fiction.

Although any science fiction subgenre is fair game, our tastes lean towards slipstream, cyberpunk, post-apocalypse, and anything with a little taste of the bizarre. FF prefers character-driven stories, and often skews towards quiet, reflective pieces. If the primary tone of your story is one of high adventure or humour, it's probably not the right fit for FF. That said, quality always outstrips genre preference in terms of importance, so feel free to send us anything that even vaguely resembles science fiction.
Submission Hints
see description
My Experience with Them
None yet.
Details
Editor: Sean Clancy
OPENS Sept 7th
Pay: 6 cents per word 

range: 5000 
max
Simultaneous submissions?Yes
Reprints? No

Description
How do you beat the name Planet Scumm? Plus, they have a retro 80's look to their website. This science fiction magazine is published by Spark & Fizz Books.
Submission Hints
"On Planet Scumm, we want to read stories that are different and unexpected. Stories that introduce new ideas, or that look at old ideas with a fresh perspective. 
They are looking for: Hard sci-fi, soft sci-fi, sci-fi that melts in your mouth-brain not your hand-brain. Speculative fiction, weird fiction, slipstream Basically anything that pleases Scummy, our megaphone-toting slime buddy, will be considered for entry to the interstellar archive aboard Scummy's saucer."
My Experience with Them
They actually were holding my story "A Deadful Friday the 13th" for consideration when I withdrew it after having it accepted by Creepy Pod. Very enjoyable to correspond with them.
Details
Editor: Catherine Tobler
Open Sept 1st
Pay: 10 c a word

Word range: 5000 max sweet spot 3-4k
Simultaneous submissions? No
Reprints? yes 1c a word

Description
The Deadlands exists in liminal spaces between life, death, and elsewhere. We are looking for speculative fiction that concerns itself with death–but also everything death may involve. A ghost in a shadowed wood. An afterlife discovered through a rusted door. An abandoned house in the middle of a haunted field. A skeletal figure moving with intent toward something unseen. Death personified. Burials in troubled lands. A raised scythe against a clouded sky. Memento mori. The rivers of the dead. The sprawling underworlds beneath our feet.

The Deadlands would love to see stories from a worldwide perspective, different cultures, different approaches to death. We welcome stories from everyone, everywhere. Stories that feature characters impacted by someone passing away and processing the event of death, are fair game, but will likely be a hard sell. Stories about related subjects—zombies, demons, vampires, apocalypses, and the various undead—are not for us. An apocalypse may be your setting, but it isn't your story. We are absolutely not interested in seeing weird West stories, steampunk tales, or military fiction. We are not interested in stories involving Lovecraft's mythos. Humor will be a harder sell than heartbreaking. If your story begins with someone waking up, it is not for us.
Submission Hints
We are never far from death—Dante reminds us. It is always there, just out of sight, around the bend in the road. The faraway nearby, Rebecca Solnit says. We could step past a tree in that wild forest and be there. Where? The Deadlands.

The Deadlands is a monthly speculative fiction magazine. We publish short stories, poems, and essays about the other realms, of the ends we face here, and the beginnings we find elsewhere. It is an adventure into the unknown, to meet those who live there still, even though they may be dead. Death is a journey we all will take, but we'd like to peek at the map before we go.

We are generally open to fiction and nonfiction submissions, except for a year-end holiday closure. Poetry submissions are open the first two weeks of every month, resuming in February 2022. Explore our guidelines and read our issues to see what we're publishing and if your work might fit.
Insight
A couple rejections so far for me. They came quickly... I am intrigued by this market. Hoping to sell to them one day.
Coming soon to kickstarter!
Details
Managing Editor: Tacoma Tomilson 

Flash Fiction Prompt
OPEN Sept 1 -14
Pay: 5 cents per word

Word range: under 1,000

Simultaneous submissions? No 

Reprints? No

Description
Every month Apparition Lit holds a flash fiction contest and buys a story based on their prompt.

The overall theme for the year is REALITY SHOW MADNESS.
This month they are looking for stories in the vein of Takeshi's Castle/Hole in the Wall/Wipeout

Submission Hints
Send us stories with enough emotional heft to break a heart, with prose that's as clear and delicious as broth. We love proactive characters and settings that feel lived in and real enough to touch. Stories with style, stories with emotion, stories with character.
Insight
I keep trying every month. No luck. I do promote cheesy reality shows for a living. Let's see if my background will help me finally break into this market.
Last month, I wrote a story about a woman's in a life or death Survivor type game show.
Editor:Students of Western Colorado University

Open Sept 1 - Oct 16
Pay: 6c cents per word
Word range: 5000 max
Simultaneous submissions? NO 

Reprints? No

Description
A collection of fun and thought-provoking stories about magical animal familiars and their humans. Familiars can be feisty felines or other imaginative animals. This is the fifth anthology put together by the Publishing masters degree students at Western Colorado University, taught by bestselling author Kevin J. Anderson and award-winning editor Allyson Longueira, funded by Draft2Digital.

Previous anthologies include Monsters, Movies, and Mayhem; Unmasked; Gilded Glass; and the just-released Merciless Mermaids: Tails from the Deep. See the examples at http://wordfirepress.com/gpcw
Submission Hints
We're familiar with familiars ... or are we? Gifted adventurers across time and space have traveled with an animal familiar—often a cat, but other fuzzy, scaly, or prickly creatures make appearances, too. These magical companions might lead their humans into mischief, help them out of a sticky situation, or provide opinionated commentary along the way.

But when the wizards are away, the familiars will play.

Feisty Felines and Other Fantastical Familiars is an original collection that shines the limelight on the sidekicks, the familiars. Familiars have lives of their own, a sense of humor, and a shadowy underbelly that we totally overlook.

Does the Siamese cat companion develop powers of telekinesis … maybe to knock deadly potions off the counter? What happens when a rat studies to become a familiar in a class full of cats? Is the circus leopard really the puppet master who makes her handler look good?

They don't all have to be felines. What about unfamiliar familiars? A time-traveling elephant that never forgets a grudge against his warlock? A lowly earthworm horrified to find itself bonded for life to an ungrateful enchanter?

Now it's time for these fantastical familiars to take the main stage. Make your stories humorous, dark, or heartwarming—so long as the familiar is the central figure in the story. We're looking for writing with all the wit, mischief, and charmingly complex character of cats themselves.

Think outside the litter box and send us something unique that finally gives these familiars the fame and glory they deserve.
Insights
The lovely Jenn Fir alerted me to this call! It's her group. And of course one of my favorite industry pros ever, Mark Leslie, is also part of this project.
Editor: Rebecca Bennett

Open Sept 1 -30
Pay: 8c cents per word
Word range: 1000-3500
Simultaneous submissions? Yes 

Reprints? No
primarily Canadian Magazine
Description
Heartlines Spec is a speculative magazine focused on long-term friendships and relationships. It's the comfort of the known, the fierce hug of someone that knows you best.
Submission Hints
We're looking for short fiction and poetry focused on long-term relationships: platonic, romantic, or familial. We don't want the blaze of new love or the obsession of a new friend. We want pieces that show that comfort that develops when people know each other for years.

Give us deep space, dusty frontiers, or dreamy fantasy. We want stories and poetry with strong, confident relationships amid all the sci-fi/fantasy. While we are primarily looking for stories with happy endings (yeah, yeah), we also want endings that are earned. If things get a little teary or gory, that's ok.

We are especially interested in stories featuring queer platonic relationships, ace/aro love stories, and polycules.
Insights
If you find the working of their call like Augur's - it is because they consulted with them. It is a different magazine. -- I've sent them a few stories but haven't found the vibe yet.

Open Sept 1- 14
Editors: Justine Norton-Kertson & Brianna Castagnozzi
Pay: 8 cents per word 

range: 1500-7500
Simultaneous submissions? yes
Reprints? No

Description
"Solarpunk at Work" exploring what labor, economics, and our relationship to work looks like in solarpunk futures.

Solarpunk Magazine publishes hopeful short stories and poetry that strive for a utopian ideal, that are set in futures where communities are optimistically struggling to solve or adapt to climate change, to create or maintain a world in which humanity, technology, and nature coexist in harmony rather than in conflict. We also publish solarpunk art as well as nonfiction that explores real world, contemporary topics and their intersection with the solarpunk movement for a better future.
Submission Hints
Our fiction editors are interested in works that stir readers with themes of defiance, change, and achievement. This effect isn't likely to come via high concept utopias alone, but rather, from vibrant characters whose struggles affect the reader. Speculative elements should be apparent but not dominating; our disbelief suspended not by necessity, but immersion. Any genre of science fiction, interstitial fiction, magic realism, or fantasy has potential as a solarpunk forum—we welcome robots and elves with equal excitement.

Justine gave me this tidbit in my interview: I'd also like to see more stories that are set further out in the future and explore pitfalls and problems within communities that have already, by and large, successfully adapted to or solved climate change and are well on their way toward the utopian ideal.
Insight
Justine Norton-Kertson is the co-editor-in-chief of this magazine and they took the time to give me to the inside scoop on how horror can work with solarpunk.
Uncanny & Unearthly Tales
The Midnight Labyrinth
Open for submissions: till Dec 31st
Pay: 5c a word
Word range: max 2500-7000
Simultaneous submissions? Yes
Reprints? No
Description
Each story should feature a tale delivered from a character who stepped through a door and found themselves someplace unexpected. On their journey, they will notice a book called Midnight Labyrinth. No requirement to read or interact with it; it just needs to appear. Genre-bending is welcome! Sci-fi, steampunk, horror, fantasy, etc.
Submission Hints
This anthology is an exploration of PLACE and FANTASY, so the MC in the story needs to actually find themselves in a new world/city/place that they've either never been before or haven't been for a long time. (I'm leaving this vague so you have room for nostalgia along with the weird and unexpected, not so you can make any story fit in two seconds.) Also, please don't shove the anthology requirements at the beginning of your story all at once. That does not endear you to the editors, nor is it in good spirit of the anthology.
My Insights
My writing friend Akis Linardo has sold to this market. So has Amanda Cecelia Lang. Both specialize in beautiful, dark prose. Neither afraid to veer into the strange.
Details
Editor: Roxie Voorhees
Open: till Oct 1st
Pay:$50
Word range: up to 1000-3000
Simultaneous submissions? No
Reprints? No
Description
20-30 stories inspired by NIRVANA songs, ranging their entire discography. All horror tropes are welcome. Genre-blending is highly encouraged. Queer retellings and gender swaps, historical horror, sci-fi horror, cults, and cannibalism are a few of our favorites. Writers should have a diverse representation of BIPOC, LGBTQ+, gender identities, disability, fat positivity, and neurodivergence. **Please note: Only one story per song will be accepted


Submission Hints
Please, do not submit stories about Kurt Cobain, Courtney Love, Kurt's suicide (mentioning is fine), anything that has to do with band members' personal lives and not related to NIRVANA or its music.

Celibrate 35 years with a collection of NIRVANA-Inspired Horror!

For decades, our lives have been touched by the music. We've cried, screamed, laughed to the punk riffs and unique vocals. NIRVANA shaped us during our formative years and it shows. For that, we honor the mark they've made.

Now we sing dark, twisted covers of our favorite songs.

From Book Slayer Press and Roxie Voorhees, co-editor of MINE and READER BEWARE, comes a collection of NIRVANA-inspired horror.

Forming the ultimate playlist, the stories within showcase NIRVANA's discography with a fear inducing twist.
Insight
None - Except. I love Nirvana. What Gen X doesn't? Roxie reached out to me and let me know the pay has been upped to $50! Ps. I love their rejection letters. One of my favorite ever came from Roxie.

"Thank you for submitting "The Moxy Mermaid" to The Pleasure In Pain: A Queer Horrotica Anthology. We found the story fun to read and disturbing, but ultimately didn't fit the vision of the theme as much as we'd like.
Details
Editor: Rebecca Treasure
FLASH FICTION
Theme: tba
Open: Sept 7- June 30
Pay: 8 cents per word
Word range: up to 1000
Simultaneous submissions? No
Reprints? No
Description
Apex Magazine focuses on dark and spectacular science fiction, fantasy and horror. Publishing bi-monthly, it used to be called Apex Digest and has been nominated for several awards. It went on hiatus for a while, but is back in business and accepting submissions.
Submission Hints
Apex Magazine is an online zine of fantastical fiction. We publish short stories filled with marrow and passion, works that are twisted, strange, and beautiful. Creations where secret places and dreams are put on display. We publish in two forms: an every-other-month eBook issue and a gradual release of an entire issue online over a two-month period. Along with the genre short fiction, there are interviews with authors and nonfiction essays about current issues. Additionally, we produce a monthly podcast of narrated original short fiction."
Insight
I took a flash fiction class with Rebecca and it was outstanding. Learn more about the flash fiction editor at APEX.
Details
Editor: JW Stebner
Deadline: Sept 1 - 7
Pay: 1c a word
Word range: 10,000max
Simultaneous submissions? No
Reprints? NO
Description
Hexagon is an online magazine created to take readers to fantastic worlds and to meet incredible characters. We specialize in the weird, the wondrous, and the whimsical!

We are looking for speculative fiction pieces that take us on journeys to other worlds or other times, where elements of the fantastic, absurd, horrifying, or humorous might exist. We are drawn to stories that explore distant futures, ancient civilizations, and everything in between. Experimental fiction is welcomed, as long as there are elements of the wondrous, the weird, or the whimsical.
Submission Hints
-We currently publish only speculative fiction. This includes science fiction, fantasy, horror, mystery, cyberpunk, sword and sorcery, magical realism, paranormal horror, dystopian epics, eldritch horror, superhero, space opera, afrofuturism, weird west, etc.

-Deeper than genre, we are looking for pieces with engaging characters, fresh conflicts, and exciting narratives, not just concept pieces. We recommend that you read some of our published work before submitting.
My Insights
I saw that Ai Jiang had a story published here. If it's good enough for Ai... https://hexagonmagazine.ca/issue-10-fall-2022/
Details
Theme: The End
Open till Sept 10th
Pay: $25
Word range: 3000 max
Simultaneous submissions? yes
Reprints? No
Description
Quiet Horror and Dystopian genre works. You may be as creative with your interpretation of the theme as you like as long as your submission fits the genres we publish (see our FAQ page for more on how we define Quiet Horror and Intimate Dystopia).
Submission Hints
Authors may submit up to two pieces per issue. We request that each piece be submitted via its own individual email. You are welcomed to interpret each issue's theme however you like but keep in mind that your interpretation should be within the realms of quiet horror and/or intimate dystopia.
Insight
None yet, but I've sent them a few stories. You get your "R's" in good time.
FOUR Anthologies in the works
Editor: Joshua Palmatier
Deadline: not yet open, but very soon!
Pay: min 8c a word
Word range: max 7500. avg 6000
Simultaneous submissions? not sure
Reprints? No
Description
FAMILIARS: Animals have been our companions since the dawn of time, but in science fiction and fantasy, often that bond is taken one magical—or technological—step further. From the ubiquitous black cats in witchcraft to the treecats in David Weber's Honor Harrington universe, Anne McCaffery's dragons of Pern to Mercedes Lackey's horse-like Companions in her Valdemar universe, familiars have played a part in stories since paper met pen. In FAMILIARS, we ask writers to stretch their imagination and give us their most inventive furry, feathered, or scaly companions in tales of fantasy, science fiction, mystery, or horror. Edited by Patricia Bray & Joshua Palmatier,

LAST-DITCH: In the heart-pounding world of espionage, it's the spy that gets the dirty work done. From a longshot gamble to reverse the tides of war to a secret operation escaping with stolen plans, the task is often left to the double agent. Whether it's for King and country or a private backer, the lone operative gets in and gets out…if only it was that easy. Edited by Troy Carrol Bucher and Gerald Brandt, this anthology will explore Science Fiction or Fantasy stories of back-against-the-wall, desperate purpose--Hail Marys launched when hope seems lost. The actions of the secret agent can change the tides for good or evil; it all depends on which side you are on.

AMPYRIUM: Welcome to Ampyrium, a city of a thousand wonders! May the trading be always in your favor. Powerful magicians called the Magnum have created a massive city contained within eight walls, each with its own portal to another world. Here, eight different magical lands collide. In these streets, all of the races from those worlds come to trade, to politic, to carouse, and to murder. Merchants and royalty, thieves and assassins; caravans and envoys, armies and entourages. Everyone…and everything…can be found in Ampyrium. Every dream can be made real. Every vice is available. Every wish can be fulfilled. All you have to do is stay clear of the Magnum…and their Eyes are everywhere.

AMPYRIUM will contain approximately seven stories all set within the shared world of Ampyria with an average length of 12,000 words each.
Submission Hints
Stories must be submitted in electronic format to the Zombies Need Brains Moksha site for the appropriate anthology at http://zombiesneedbrains.moksha.io.
My Insights
None so far. I've done a writing challenge with the Wulf Pack for a previous ZNB call, but I didn't sell anything. Now I have some good long stories I still can't sell. 😂
Editor Rhonda Parrish
Submissions: Sept 1- 30
Pay: $50
Word range: 7500 max
Simultaneous submissions? No
Reprints? No
Description
Gothic fiction is renowned for being filled with spine-chilling stories in isolated and forlorn places. What better setting could there be than the deep, dark, depths of winter? When snow and storms can isolate remote locations for days or weeks and bundling up to keep the cold away provides a different kind of anonymity and isolation even in the heart of cities.

Hauntings and Hoarfrost will be filled with stories of frosty mornings, blood stained snow and ghosts who appear and disappear like breath fogging the air. I will be looking for mysterious messages scratched into frosty windows, the sound of ice skates cutting across an empty pond, wild storms and blankets of soft, white, beautiful death.
Submission Hints
Canadian spelling, please. (Just do your best, we don't judge)
My Insights
Rhonda Parrish creates gorgeous anthologies
Editor Mari-Lou Rowley
Submissions: Sept 15 - June 15
Pay: $50 per page, max $250
Word range: 3500 max
Simultaneous submissions? Yes
Reprints? No
Description
Published four times per year, Grain Magazine is an internationally acclaimed literary journal that publishes engaging, surprising, eclectic, and challenging writing and art by Canadian and international writers and artists.
Submission Hints
Send typed, unpublished material only (we consider work published online to be previously published). If work is submitted simultaneously, please let us know as soon as possible if it is accepted elsewhere. Please only submit work in one genre at one time.
Editor Michael Kelly
Submissions: Sept 2 - 16
Pay: 1.5c a word
Word range: 500-6000
Simultaneous submissions? Yes
Reprints? No
Description
We are a home for the strange, the macabre, the eerie, the esoteric, the fabulist, and the gothic. The darkly numinous. The odd. We are not interested in extreme horror. Do not send science fiction or fantasy.
Submission Hints
Only one sub per writer, per open period.
Details
Biannual Pub
Open till September 18th
Pay: $10
Word range: 3500 max
Simultaneous submissions? yes
Reprints? No
Description
Think of Pyre as a bonfire — a place of storytelling and sacrifice. Take a seat near the fire and listen or spin a yarn of your own. Here at Pyre, we worship at the altar of storytelling done well. We love genre work that tells us something about the human condition.
Submission Hints
We are most interested in dark genre-bending works in the realms of horror, sci-fi, the weird, the macabre, fantasy, and magical realism. We want stories that grab us by the throat and ask questions about what it means to be human. Make us feel something long after we are done reading.
Details
Opens Sept 1
Pay: 3c a word
Word range: 2000-7500 max
Simultaneous submissions? no
Reprints? No
Description
Are you a little odd?
Submission Hints
We are looking for highly imaginative stories with a healthy dose of the odd. Odd characters, odd experiences, odd realities. We're looking for genre / speculative stories and are quite partial to slipstream, cross-genre, magic realism, absurdist, and the surreal.

We want character. For us, stories live and die by their characters. We're looking for fully drawn characters who surprise us with their honesty, complexity, and contradictions. We want mysterious. We're looking for stories that grab the reader, make them ask, "what the hell is going on?" and then deliver on the tease.

We want ideas and we want action. We love exploring big, philosophical ideas, but we revel in suspenseful plotting. If you're adept at blending these elements, we can't wait to read your work.

We want fresh voices and exciting prose. We want to be surprised. We want to be inspired. We want to find stories that we can't wait to publish, promote, and evangelize.

Of course, the best way to understand what type of fiction we're looking for is to read a couple issues.
My Insights
I LOVE the art of this magazine. No luck. Many tries....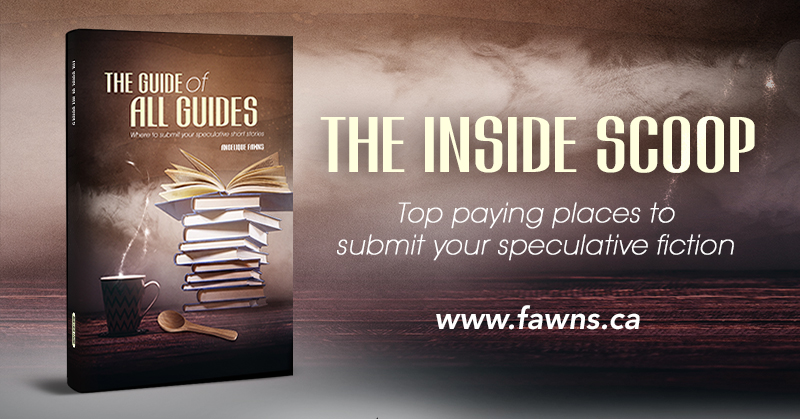 Some of the information below can be found in The Guide of all Guides. Get the complete book for 99c here